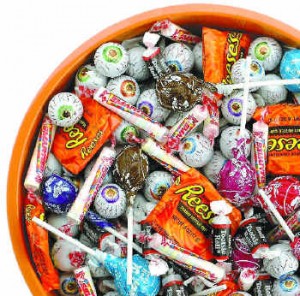 Knock knock.
Who's there?
Phillip.
Phillip who?
Phillip my bag with candy!
Tell us,
What's your favorite Halloween candy?
---
Artist Ray Villafane began carving pumpkins on a lark for his art students in a small rural school district in Michigan. The hobby changed his life as he gained a viral following online and unlocked his genuine love of sculpting. Here are images of pumpkin carvings Villafane created over the past five years.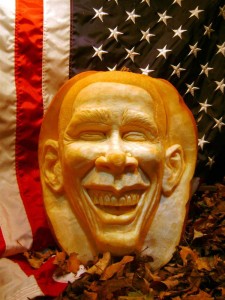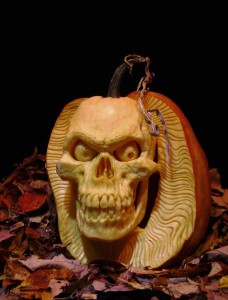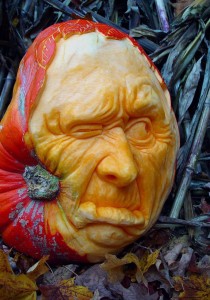 ---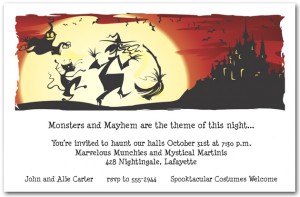 October 22nd a Full Moon will rise and on a beach in Thailand, 20,000-30,000 people gather to celebrate.  The party begins at dusk and as the evening progresses, the beach explodes into a dancing frenzy with DJ's taking turns playing the music.  Live entertainers perform for the crowd and the sky lights up with a fireworks display. 
Be sure to get out and see the full moon as it rises, right around sunset. Along the horizon, the moon tends to seem even bigger but this is just an illusion you can easily prove yourself.
Take a small object such as a pencil eraser, hold it at arm's length, and compare its size to that of the moon just as it rises. Repeat the experiment later in the night and you'll see that the moon compares the same in both cases. Astronomers and psychologists agree that the moon illusion is just that, but they don't agree on how to explain it. 
You might want to check out the Full Moon Calculator to see when the next full moon is or perhaps enter the month and year you were born to see if you or your friends were born under a full moon.
---
The Fruits of the Season Invitation features a border of pine cones, applies, grapes and beautiful leaves trimmed in gold foil accents on a black background. This invitation is perfect for a Fall or Christmas event for business, family or friends.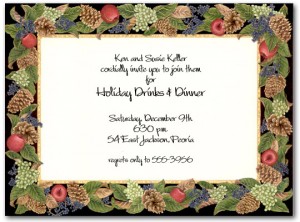 Shop all Autum & Fall Invitations
Shop all Holiday & Christmas Invitations
---
We know there is 18 days until Halloween and already you're being bombarded with Christmas stuff. We also know:
There's 73 days until Christmas, (Yikes!)
Less 21 days for the first Saturday in December – the 4th
Less 7 days, the minimum amount of time you should give for RSVP before your party date
Less 7 days, give or take, to order and get your holiday invitations delivered
Less 3 days average time it takes hosts to get invitations in the mail
…you're running out of time!
And then, there's your guests to consider. They have holiday invitations for his work, her work, their kids, their "other" friends, professional organizations they belong to, New Year's Eve, and you probably have those same commitments too. December calendars fill up at warp speed.
How is your party going to grab your guests' attention? By sending them a custom printed party invitation. If your social circle is a partying group, don't make the mistake of skimping on an invitation. Your party invitation needs make guests say, "We're going to this party!" Custom printed invitations can be the difference between a packed party or a dismal, embarrassing "is anyone coming?" turnout.
When guests pull out their calendars, you want your custom printed invitation on the top of the pile. A casual invitation by phone call is too informal and often slips their minds if their calendar is not in front of them at the moment you call. It's also ineffective for conveying the tone of your party like a custom printed invitation. A letter sheet folded into a "bill-size" envelope that reads like a laundry list of boring details won't make it to the top of the pile in the bid for a coveted party date. An emailed invitation, provided guests remember to print it, loses it's appeal quickly when it's printed on plain white copy paper and lost in the pile of other papers on your desk.
While we can't clean your house or do your shopping for the party, we can get perfect holiday party invitations in your hands quickly and efficiently.
Impress your guests with the best! Shop our Holiday Party Invitations now. Look for the "Exclusive" label for invitations you won't see anywhere else.
---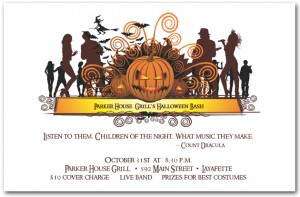 Costume parties and masquerade balls have been around for centuries and they are still popular themes today for Halloween, Mardi Gras and birthday celebrations. A "Costumes Required" Halloween party will mean any costume is appropriate and lots of "Halloween" costumes – scary creatures, vampires, ghouls, and such will arrive at your party.
If you have something more sophisticated in mind such as a "Masquerade Ball", you will need to be very specific on your invitation as to what costumes are the theme of the evening with descriptions such as "Medieval Times Costumes" or "Roaring 1920's Attire Required."  Whatever you envision for your party, make sure you are specific or you may be surprised at "what" shows up at your door.
When a theme party sets the tone for the evening, guests often will go to a great deal of effort on their costumes and prizes are enjoyed and appreciated and don't have to be expensive. You can give prizes for "Overall Best Costume", "Best Mystery Costume" to the guest no one could tell who they were, "Most Outrageous", "Best Period Costume", or anything that fits your party's theme.
If you're having a "Ball", dancing will be a part of the evening. You can provide the music or even have a karaoke contest. If something more elaborate is called for, wandering entertainers, magicians and fortune tellers would be great attractions.  Be sure to have a few masks and capes on hand for guests that insist on showing up out of costume.
Shop all Halloween Party Invitations
Shop all Halloween Party Favors
Shop all Party Invitations
---
What one thing stands out about the best party you've ever attended?
The invitation?
The location?
The people?
The food?
The beautiful weather?
The music?
Your date?
The dreamy guy/girl across the room?
Your dress/suit?
Your hair was perfect?
The champagne was simply fabulous?
That romantic last dance?
Make us swoon or smile and share your favorite party rememberance.
---
Elegant jewel tone Christmas Tree Ornaments decorate the left side of this beautiful invitation-a perfect choice for a holiday party invitation, Christmas party invitation, corporate holiday party invitation, holiday open house, office Christmas party invitation and more.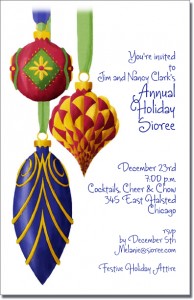 Shop all Holiday Party Invitations
---
My son, Trevor, turns 20 today, October 5th on America's Most Popular Birthday! 
Did you know there are more babies born on October 5th than any other day? If you count back nine months, you'll find New Year's Eve, which might have something to do with the popularity of this date.
I know every mother says "it seems like yesterday that I had my baby!" but to me it really does. 
It's been a fabulous 20 years of hugs and kisses along with motorcycle racing, broken bones, basketball and football. Thanks for being a great kid, a wonderful son, and for the beautiful glimpses of the man you are becoming.
We love you, Trevor!
---
The words 'Sweet Sixteen!' run up the side of this Shimmery Purple invitation in a hip modern script. The invitation also comes with matching shimmery purple envelopes. It's a perfect choice for an girl's sweet sixteen birthday party invitation.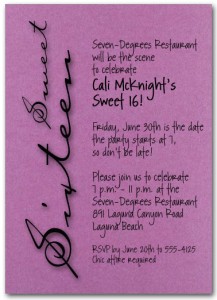 This Sweet Sixteen invitation also comes in these shimmery paper colors: Hot Pink, Green, Orange, Teal, and Pastel Pink.
---