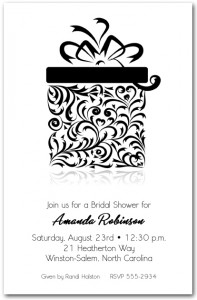 How do you make it personal? Party planners and hosts want the same thing when making plans for one-of-a-kind parties such as a bridal shower, baby shower or a milestone birthday party. Adding a personal touch may be easier than you had imagined.
Party invitations set the tone for your event. What are you celebrating? Is it a casual or formal event? The perfect invitation lets guests know what to expect and entices them to attend your party. Make sure you choose an invitation that builds excitement for your party and guests can't say "no" to.
If your invitation has a theme or favorite color, continue it through the decorations. For a bridal shower, use the bride's chosen wedding colors. For a baby shower, pink and blue with touches of brown or green are popular.
Make your centerpiece a stand out. Centerpieces can consist of anything that fits into the theme of the event. Flowers in your chosen colors are always beautiful. Clear jars or bottles filled with candies or chocolates are a visual and mouthwatering delight. Seasonal or delicious fruits such as whole cranberries, grapes, sliced lemons, oranges or limes with floating votives in water add splashes of color.
Party favors in the same theme or colors as the rest of the party-such as candles for a party that relies on them for decoration, bags or small decorative glasses filled with candy and individually tied with ribbons and a "thank you" tag. For any party, how about passing out lottery tickets?