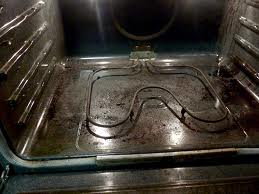 Is it time to tackle the burnt-on mess on the bottom of your oven before your next party or as part of your spring cleaning routine?  If this is a chore you dread, baking soda makes it as easy as it gets, and your next meal won't taste faintly of chemical cleaners.
Sprinkle baking soda liberally all over the bottom of the oven and spray it with water until it's well dampened.
Leave solution on for a few hours then just wipe out the mess. Wipe with a solution of white vinegar to remove the baking soda film left behind and you're done!