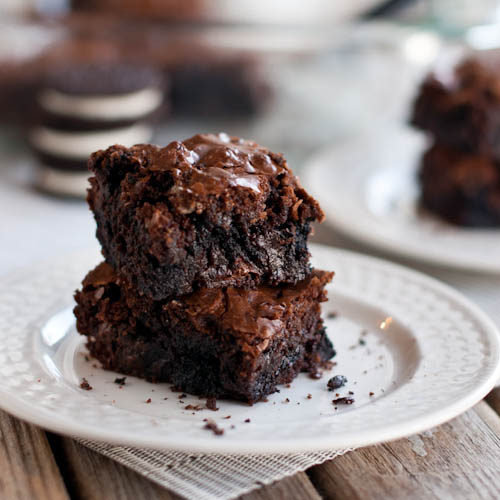 Best ever brownies with chocolate chips and Oreo cookies! Just add milk.
Ingredients:
1 package Ghirardelli Double Chocolate brownie mix (with the chocolate chips in it)
1 egg
1/3 cup oil
1/4 cup water
10-14 Oreo cookies
Instructions:
Preheat the oven to 325. Prepare the brownie mix as directed with the egg, oil and water.
Crush the Oreos in a large bag with your hands or a rolling pin. Pour them into the batter and mix well. Batter will be thick.
Pour batter into a greased square baking pan (mine is about 8×8) and bake for 30-40 minutes.
Check doneness by inserting a knife into the brownies; if it comes out mostly clean, you should be good to go. But when in doubt, I'd say underbake!
By Pinch Of Yum