Wedding Event Invitations

Invitations for all your Wedding Events
Invitations for wedding events: bridal shower invitations, engagement party invitations, rehearsal dinner invitations, bachelorette party invitations, bachelor party invitations - any wedding event occasion.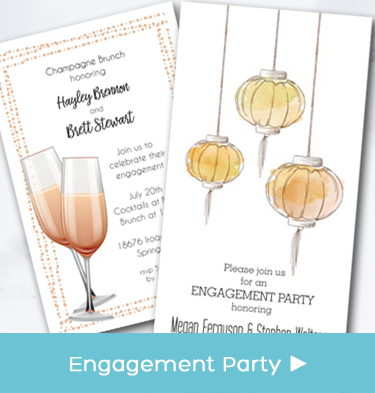 Engagement Party Invitations
He proposed and she said "Yes!", now it's time to let everyone know the wonderful news. Traditionally, the bride's parents host an engagement party for the couple, but now days, it is common for the groom's parents, friends or even the couple themselves to host an engagement party. Don't worry too much about a theme for your party, it already has a theme -- an engagement. You can use a favorite color scheme of the bridal couple or a theme such as a barbecue, a cocktail party, a tropical luau, depending on the season.
---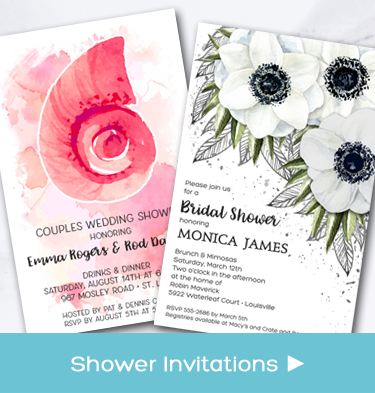 I just received my Bridal Shower invitations and I' am unbelievably impressed with how fast my invitations got here and how perfect they are. I love them!!! There are so many stresses that come with a wedding, and I' am so pleased that my bridal shower invitations came exactly how I hoped they would- Stress Free!! They are perfect and amazing! I' am so excited to send them out to all my friends and family. I will be recommending you to all of friends, especially the "future Brides." Thank you so much!!!" ...Maggie
Bridal Shower Invitations
You'll find stylish and unique bridal shower invitations featuring beautiful gowns, gorgeous flowers and sexy lingerie. A popular theme is a casual bridal shower luncheon, brunch or afternoon tea. Or how about a cocktail party wedding shower or a couples wedding shower for the bride and the groom-to-be? You can throw a stock-the-bar shower, a round-the-house shower, a linen shower, a tropical shower, whatever the bridal couple needs, you can make the theme of your shower.
---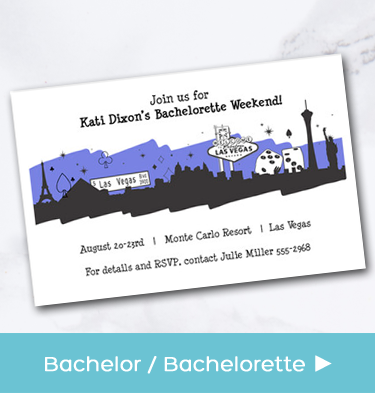 Bachelorette & Bachelor Party Invitations
The parties for the bachelorette and the bachelor are a night of fun, celebration and the last fling of single life. Traditionally, the maid-of-honor / best-man is in charge of planning the party. Discuss with the guest of honor what type of party they want and where. A Las Vegas Weekend blowout is not for everyone or within everyone's budget. A night at a club or a party complete with pole dancers or strippers...there are lots of choices for a last night on the town.

---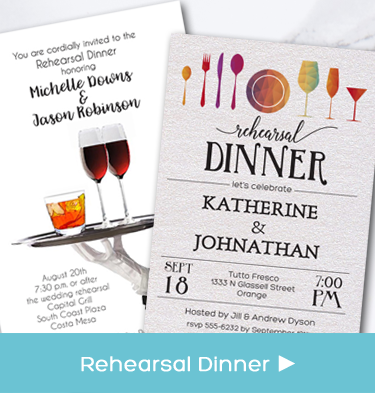 Rehearsal Dinner Invitations
The rehearsal dinner is traditionally hosted by the groom's parents, but as the age of couples tying the knot has risen and couples are more financially capable of financing the dinner themselves, couples find they also want to plan this aspect of their wedding. The rehearsal dinner may seem like another expense, but it is a wonderful time to spend some casual time with your bridal party, family and friends before all of the energy of the wedding day kicks in. You can use this time to thank everyone for participating in your wedding or for attending the festivities. Usually the rehearsal dinner takes place after a walk through of the wedding ceremony and can be hosted at a restaurant, a home or other location comfortable for you and your guests.
---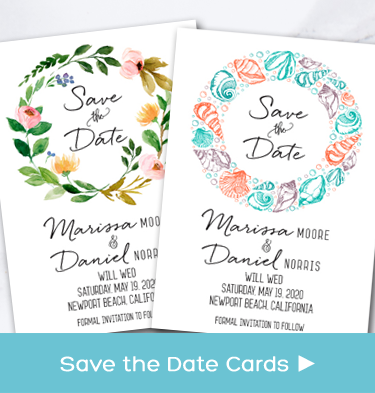 Save the Date Cards
Save the Date Cards are a way to let friends and family know your plans well in advance of their receiving the wedding invitation. The cards are usually sent out at least six months prior to the wedding date. Save the Date Cards should include: the wedding date, the location, the time, and even information about accommodations available in the area.
---
Your customer service is superb! I know I live close by, but I did not expect to have my order THE NEXT DAY! And the quality of the product? Excellent. Beautiful. It's always a little worrisome when I can't touch, feel, and see the product, but your site is quite good about close-ups and descriptions and yet, when I got my bridal shower invitations, I was thrilled at the quality and detail that could not be seen online. So thanks! I have bookmarked your site and will turn to you for all my invitation needs." ...Trudy