Children & Kids Birthday Invitations

You'll find kids birthday party invitations to fit the popular children's birthday party themes from a prince or princess birthday invitations, seasonal themed invitations, baby's first birthday invitations to a newly crowned teenager or sweet sixteen birthday invitations.
Choosing your Kids Birthday Party Invitations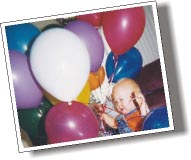 Kid's birthday invitations are so much fun! Is it your baby's first birthday invitations or are you a pro at kid's birthdays after surviving a few? Kid's love to tell everyone their age and usually do so in fractions, like "I'm 2 and a half", so we have kids birthday invitations that feature their age in large numbers covered with animal prints and more. So, whether you are looking for 1st Birthday Invitations, Kids Jungle Birthday Invitations, Cupcake Kids Birthday Party Invitations, Kids Animal Birthday Invitations, Boy Birthday Invitations, Girl Birthday Invitations, Princess Birthday Invitations, Slumber Party Invitations, Teenage Birthday Invitations, Sports Birthday Invitations, we have you covered.
Planning your Child's Birthday Party
Your baby's first few birthdays are really milestones that mark the anniversary of becoming parents. You blow out the candle(s), open the gifts and guide your little one throughout the birthday celebration. This is a chance t
o create memories that will last a lifetime, so remember successful birthday parties don't happen, the good ones are planned. The secret is keeping the party manageable, yet flexible. Here are a few of the important details that need your consideration.
The Invitations: Don't feel you must create a theme to build the party around. Your kids party already has one theme-it's a Birthday Party! Your child's birthday party invitation can center around favorite stories, interests, songs, or characters. Custom printed kids party invitations make a wonderful, personalized keepsake of your child's special birthday.
The Date: Weekends are great, especially if you want help from your spouse or baby-sitter. A small child won't care if the party isn't on his birthday. If your child's birthday falls on a holiday, make sure you send out your child's birthday party invitations extra early or consider having the party on another day. Also be sure to first check the date with guests without whom the party wouldn't be a success, such as grandparents, godparents, or best friends and make sure their schedules are free. Otherwise, you might be having two parties!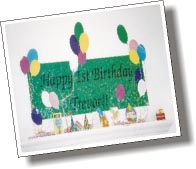 The Time: For a one-year old, keep the birthday party short. A good way to ensure your party won't run all night is to only serve cake and ice cream. They are really the main components of a birthday party anyway. Remember to consider nap times and other schedules too. A happy child after a nap will love being the center of attention. For older children, keep an eye on the clock, their energy levels and their interaction abilities with other birthday party guests. A cranky guest of honor is no fun for anyone.
The Decorations: Birthday party decorations are the magic that transform your home into a special place, and they don't have to cost a lot. You can decorate for your child's birthday party with crepe paper streamers, (attach to your walls with toothpaste, it will wash right off), balloons with curled ribbon tails to bounce on the ceiling (buy helium balloons the day of the party), and inexpensive posters (attach with rubber cement, it will rub right off). Your child's birthday cake can be your centerpiece with party hats, blowers and party favors arranged around it.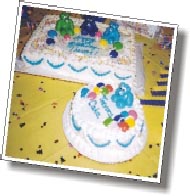 The Cake: For kids, the birthday cake is the party, and a "squash cake" (a small cake especially for the birthday person) is a must! Put the squash cake on their highchair tray or sit them on the table with their squash cake between their legs. Some children will be very dainty and gently touch it and taste it and not make much of a mess. But other kids will pat and hit the cake, dig their fingers in for a handful, and even put their face in it for a big bite. A video camera is a must for this! It will probably be your favorite part of the party, especially if you're lucky enough to have a child that's not shy with the cake! (A garden hose and extra change of clothes are usually a good idea too.)
Birthday Party Favors: Favors are definitely a must at any age. From simple colored lunch sacks, cellophane candy cones, party favor boxes to white handled party favor bags filled with a variety of small items, there's something to fit any budget. Pass out the birthday party favors as your guests are leaving. They will love diving into them on the drive home.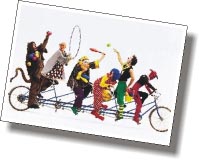 Entertainers: Don't let the birthday entertainer be a surprise to your child. It could prove to be terrifying instead of terrific. Consider the age, interests and attention span of the children present. A one-year old might enjoy a puppet show, a brief visit from a clown, or a story teller. Local or regional magazines that focus on kids are great sources of ideas for birthday party themes as well as finding the perfect entertainer to hire for your child's party.
Capturing the Memories: At least a day before the birthday party, make sure you have charged your video camera battery and have checked your still camera batteries or digital camera memory available. Make sure you have plenty of video tape and film set out in plain site so you know where it is when you need it! Some disposable cameras sitting around for your guests to also capture the action can yield some of the best pictures of you, the parents, with your child.
Most of all, make sure you enjoy the day!