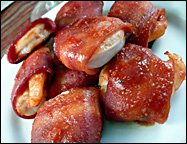 This is a fantastic party recipe! The shrimp, bacon, and BBQ sauce combo makes it nearly impossible for anyone to believe that these are guilt-free in any way. Yet each one has less than 30 calories!
16 large (not jumbo) raw shrimp, peeled, deveined, tails removed
8 slices extra-lean turkey bacon, halved widthwise
1/3 cup canned tomato sauce
3 tablespoons ketchup
1 tablespoon brown sugar (not packed)
1 tablespoon cider vinegar
½ teaspoon garlic powder
Preheat oven to 425 degrees. In a small bowl, combine tomato sauce, ketchup, sugar, vinegar, and garlic powder until mixed well. Set aside. Lightly spray a baking sheet with nonstick spray. Take ½ slice bacon and coat it in the sauce. Wrap the sauce-covered bacon around a shrimp and place it, seam side down, on the baking sheet. Repeat with the rest of the bacon and shrimp. Give them a quick mist with nonstick spray. Bake in the oven until shrimp are cooked through and bacon is crispy, 10 to 15 minutes.