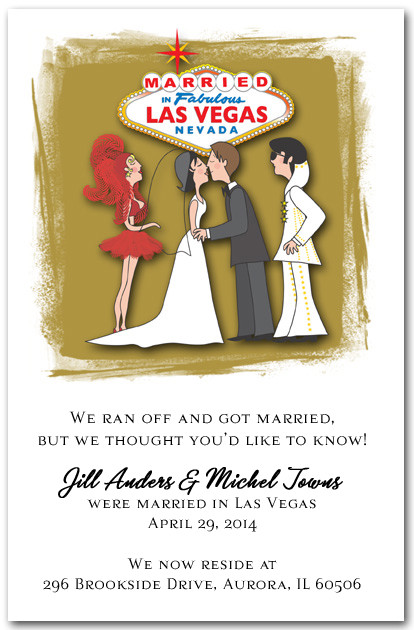 A customer recently asked us if it was proper to have a bridal shower if they were planning to elope. The definition of "elope" is "to run off secretly to be married, usually without the consent or knowledge of one's parents."
So, in the true sense of the word, if you are running off to secretly get married, it would not be proper to have any type of shower before doing so.
As far as bridal showers go, etiquette states  you should not invite people to wedding showers who are not also invited to the wedding itself. (You don't have to invite every wedding guest to a shower.)
For clarification, we're only discussing secret elopements here — not destination weddings — they have their own set of "etiquette rules" to follow.
If you elope, a better choice would be to mail friends and family a printed elopement announcement stating you have eloped and include some fun details such as the date and where you were married. It's nice to add any change of address of where you are now both residing since your marriage.
Along with this information, you could invite guests to a reception or party to celebrate your marriage that would be scheduled for some time after you've returned. This can be a simple cake and punch affair, a backyard barbecue or a full blown wedding reception, but it doesn't have to cost a fortune. The idea is to celebrate and mingle with people you care about.
But back to the real question — gifts. Will people send you gifts after they receive your announcement or attend a celebration reception after the fact? Honestly, some will and some won't.
If you choose to register for gifts, do NOT put any registry information on your elopement announcement or reception invitation. It implies you are more interested in getting gifts than celebrating the occasion with your guests (even if that's true, it's tacky, so leave it off.)
So how will people know what to give you or what you need or where you're registered? Make sure your immediate family or best friend that might be asked, know where you are registered. If people call and ask where you're registered, they can be told at that time. If you mail reception invitations, you can tell people when they reply by phone or by email if they ask. Just as it is not acceptable to include registry information on a printed announcement or invitation, it is also not okay to automatically tell everyone who calls where you're registered UNLESS they specifically ask you for the information. If you've created a wedding website, it is okay to list your registry information there.