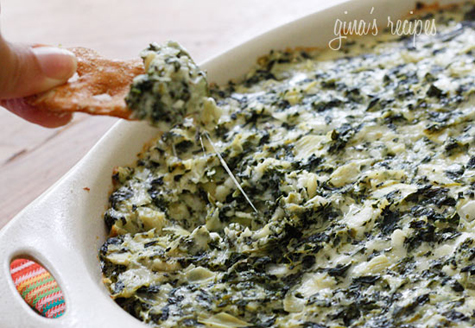 This delicious Skinny Hot Spinach Artichoke Dip is perfect for any party or get together and no one will know it's a "skinny" recipe.
Easy to prepare ahead of time, then throw it in the oven when you are ready to serve, this Hot Spinach and Artichoke Dip will be a crowd pleaser. Serve with baked chips, Pretzel Crisps, or sliced vegetables to keep with the skinny recipe. No one will know this is a light recipe.
Ingredients:
13.75 oz artichoke hearts packed in water, drained
10 oz frozen spinach, thawed and squeezed
1/4 cup chopped shallots
1 clove garlic
1/2 cup light mayonnaise
1/2 cup fat free Greek yogurt
2/3 cup Parmigiano Reggiano
4 oz shredded part skim mozzarella cheese
salt and fresh pepper to taste
olive oil spray
Directions:
Preheat oven to 375°. In a small food processor, coarsely chop the artichoke hearts with the garlic and shallots. Combine all the ingredients in a medium size bowl. Place in an oven-proof dish and bake at 375° for 20-25 minutes, until hot and cheese is melted. Serve right away.
This recipe can be made one day in advance and stored in your refrigerator until you're ready to bake it. Makes about 3-3/4 cups.
Servings: 15 • Serving Size: 1/4 cup • Old Points: 2 pts • Points+: 2 pts
Calories: 73.3, Fat: 4.4 g, Carb: 3.4 g, Fiber: 0.9 g, Protein: 5.2 g, Sugar: 0.6 g, Sodium: 244.7 g. From Skinnytaste.com