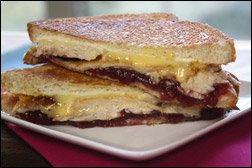 What do you do with the Thanksgiving left over turkey? Here's a great sandwich idea – the Gobble, Gobble Cranberry Grilled Cheese & Turkey Sandwich.
An amazingly unique and delicious sandwich to make with your Turkey Day leftovers.
Ingredients:
2 slices light bread
2 tsp. light whipped butter or light buttery spread (like Brummel & Brown), room temperature
1 wedge The Laughing Cow Light Creamy Swiss cheese
1 tsp. Dijon mustard
2 tbsp. jellied cranberry sauce
2 oz. cooked and sliced lean skinless turkey breast
1 slice fat-free American cheese
Directions:
Lay bread slices side by side on a plate, and evenly spread butter onto both slices. Flip slices over. Evenly spread cheese wedge onto one slice.
Evenly spread mustard onto the other slice of bread and top with cranberry sauce, turkey, and American cheese. Place the other bread slice on top, buttered side up. Set aside. Bring a skillet sprayed with nonstick spray to medium-high heat on the stove. Add sandwich and cook until lightly browned on the outside and hot on the inside, about 2 minutes per side.
Serve and enjoy!
PER SERVING (entire recipe): 305 calories, 6g fat, 886mg sodium, 35g carbs, 5.25g fiber, 13g sugars, 27.5g protein — POINTS® value 6*