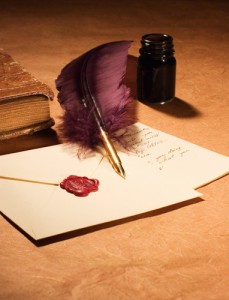 In the Middle Ages, families of means would have their wedding invitations hand-crafted by monks who were skilled in the art of Calligraphy.
The personal crest or Family Coat of Arms was stamped in hot wax to seal the document.
By 1600, the printing press which was invented in 1447, still produced a poor result for stylish wedding invitations.
It was around this time that it became tradition to announce weddings in the newspapers.
Shop Engagement Party Invitations and Announcements