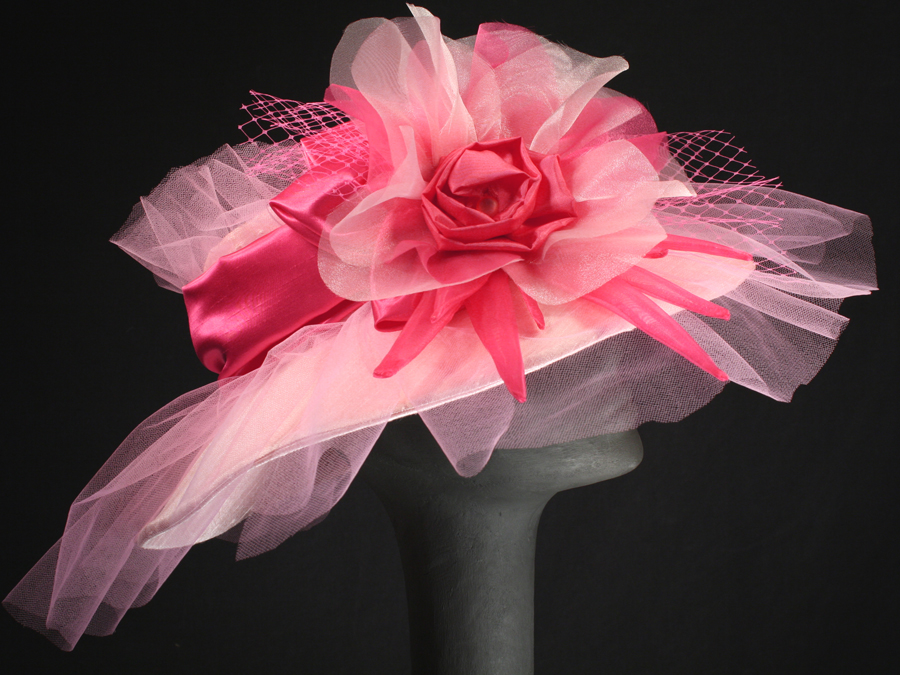 When it comes to Kentucky Derby fashions, what is appropriate to wear to Churchill Downs race day will also work for Derby parties you have been invited to.
The Kentucky Derby Hat
It all starts with the hat, or at least it did for me. My trip to the Derby was a birthday surprise from my husband and friends gifted me my Derby hat. I think starting with the hat made dress shopping easier as it was much harder to find a hat than I imagined.
If you're lucky enough to be at Churchill Downs race day, don't think you can skip the hat and not be noticed. Whether custom-made or off-the-rack, if you're a woman, you'll feel out of place without a hat. If a big frilly confection is just not for you, try a fascinator that you can secure with a headband or a comb.
The Dress
The Derby is an event where you can dress to feel like a Southern belle even if you're a Yankee. A dress is a must, but the style is up to you. As the weather can be anything the first Saturday in May, a sleeveless or strapless dress with a sweater or coat you can remove as temperatures change will be the most comfortable. (While terribly unfashionable, you will want to stuff some plastic rain ponchos in your bag in case of rain. You'll thank me if they're needed.)
The Shoes
Be prepared to walk and walk and walk while at Churchill Downs. I thought I had chosen comfortable shoes, but by the end of the day, the cobblestone pathways and time on my feet made me wish for a comfy pair of flip flops. If you choose to wear heels, you might want to carry a handbag large enough to hold a pair of sandals or Foldable Ballet Flats for the after-the-race walk and wait for transportation.
The Jewelry
Keep it simple. Your Derby hat will be your statement piece so you might want to go with simple gold or silver hoops or studs or pearls and a simple necklace.
The Bag
Remember our advice to carry a bag large enough to fit comfy shoes? You might want to carry a cute hip bag or over the shoulder clutch to keep hands free for your Julep, racing program or to go place your bets and a larger tote bag in a style your date won't mind carrying that could hold binoculars, rain ponchos and your souvenir Kentucky Derby Mint Julep Glasses (yes, they are glass!) home after the race.
The Men
If your man likes to wear hats, you can go with anything that is a throwback to yesteryear or sporty fedoras that compliment his outfit. Seersucker suits are always in fashion for the Derby paired with the bright hues of spring. We love the ties from Vineyard Vines made for the Derby – Mint Julep Tie and the Run for the Roses Tie.
BONUS TIP:  BRING SUNSCREEN!
Sunscreen never crossed my mind until about an hour after I'd been in the sun and my shoulders started turning pink.  They don't sell it (or they didn't) at the track but I found a vendor nice enough to share some of his with me. Just throw it in that big tote your date will be carrying and you're all set for a fabulous day at the races.