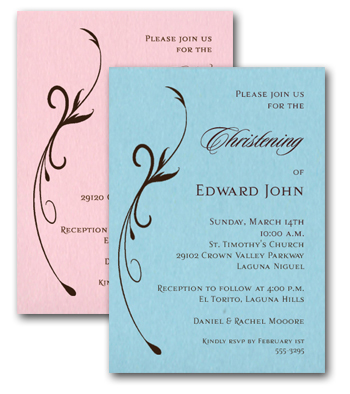 It's time for your baby's christening and a wonderful time when family and friends gather together to celebrate the birth and christening of your baby.  When deciding on the date of the christening, make sure the special people in your child's life, grandparents, aunts and uncles, have your chosen date free. Once you've decided on the date, secured the church and a place for a reception, if you are having one, it is time to choose christening invitations.
Compile your guest list by reviewing the list you used to send your baby's birth announcements and/or your holiday greeting cards list. If you need an accurate count of who's coming, be sure to use RSVP to your email address or phone number instead of regrets only. Using RSVP on your invitation can also help you keep costs under control and you will be able to stick to a budget and not over or under buy food, drinks, favors and such.
Announcingit.com offers more than 150 christening invitations, most of them exclusive designs you won't find anywhere else. It is easy to shop their website 24/7 from the comfort of your home. You'll find christening invitations with doves, crosses, on shimmery papers, with ribbons and sophisticated layered designs. You can chose from their large selection of bible verses, scriptures and poems to make your baby's christening invitations truly unique.
Consider Announcingit.com to help you make your baby's christening day memorable starting with beautiful christening invitations.