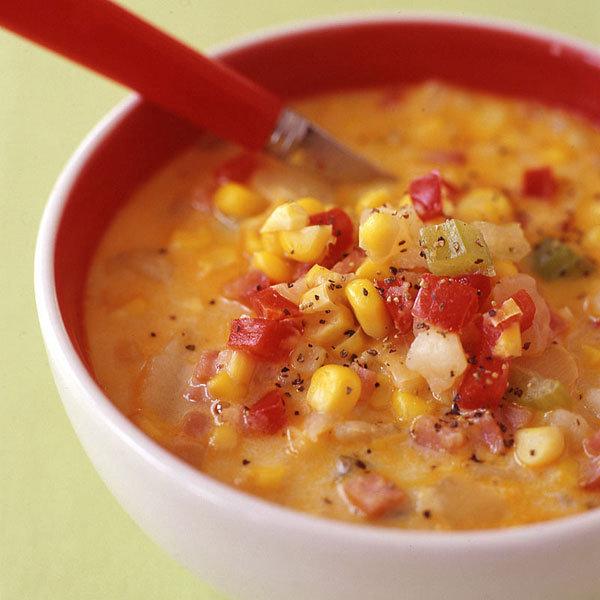 Sweet summer corn, buttery Yukon Gold potatoes and smoky Canadian bacon are a tasty combination in this flavorful soup. Feel free to substitute your favorite fresh vegetables like asparagus and broccoli for the red pepper. Or to save time, substitute 2 cups of frozen corn and 1 cup of frozen, diced bell pepper for the fresh corn and red pepper.
Ingredients:
1 medium uncooked yukon gold potato(es)
1 spray cooking spray
1/2 cup uncooked celery, chopped
1/4 cup chopped uncooked onion, chopped (or 1 large shallot)
4 pieces corn on the cob, kernels removed with a knife
1 cup sweet red pepper, diced
4 oz uncooked Canadian-style bacon, diced
2 cups fat-free skim milk
1/2 tsp table salt
1/4 tsp black pepper
1/8 tsp hot pepper sauce, or to taste
Directions:
Pierce potato in several places with a fork and microwave on high power until tender, turning over once, about 8 minutes total. Allow to cool; peel and mash.
Meanwhile, coat a large saucepan with cooking spray. Add chopped celery, onion, corn and red pepper; sauté over medium-high heat for 5 minutes.
Stir bacon and milk into saucepan; stir in mashed potato and mix well. Season with salt, pepper and hot pepper sauce; stir to combine. Cover and simmer 10 minutes (do not allow to boil).
Serves 4
Source: Weight Watchers