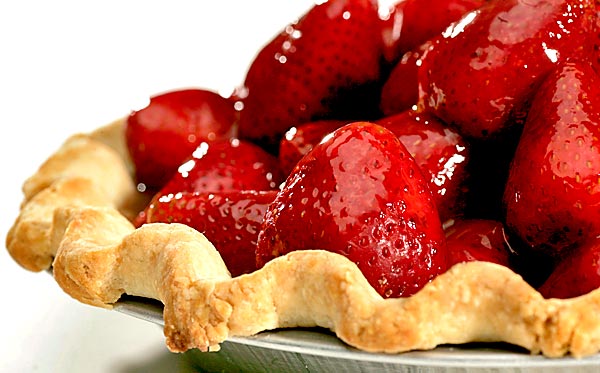 I love this Strawberry Pie recipe my mom makes. The filling is so good I could make a dessert of it poured over vanilla ice cream and topped with sliced strawberries.
Ingredients:
1 pie crust shell, baked (9 – 12 inch pie pan)
Filling:
1-1/2 c water
1-1/2 c sugar
4 Tbsp corn starch
1 small box strawberry jello
2-1/2 qt strawberries, fresh (or more!!! for taller pie!!)
Optional whipped cream or Cool Whip for topping or serve with vanilla ice cream
Directions:
In a saucepan, whisk together water, sugar and cornstarch. Cook over medium heat about 5 minutes until the sauce thickens.
Add the strawberry Jell-O and whisk and stir until well blended and jello is dissolved. Remove from heat and let cool (don't let it get set, just cooled).
Wash the strawberries, pat dry, remove the hulls. Depending on how you want your pie to look, cut strawberries in half  or leave them whole. Gently fold the strawberries into the Jell-O mixture.
Pile the strawberries up in the baked pie shell to look like a hill.
Refrigerate at least an hour.
Serve as is or top with whipped cream, Cool Whip or vanilla ice cream.