When you hear the words "Triple Crown", if you are familiar with horse racing at all, you probably think of the Kentucky Derby, the most famous of the three races for three-year-old thoroughbred horses.
The other two races that make up the Triple Crown of Thoroughbred Racing are the Preakness Stakes and the Belmont Stakes. A thoroughbred that wins all three of these races is considered the greatest accomplishment of thoroughbred racing. The last Triple Crown winner was Affirmed in 1978 until 2015 when American Pharoah riden by Victor Espinoza won the title.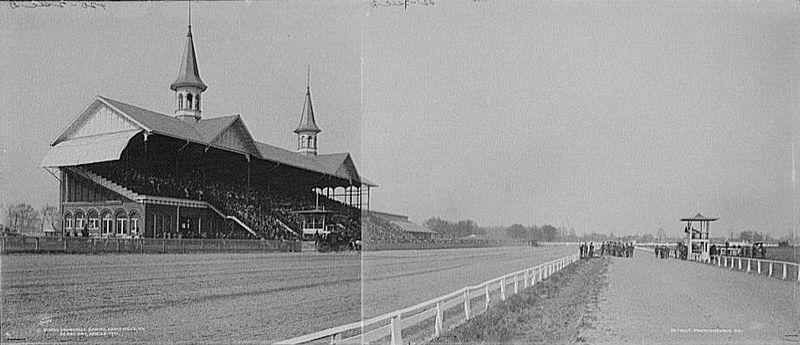 Churchill Downs in Louisville, Kentucky is the site of the Kentucky Derby, also called the "Run for the Roses" after the blanket of red roses draped over the winner. Held each year the first Saturday in May, it is the first of the three races and has been labeled as "The Most Exciting Two Minutes in Sports" or "The Fastest Two Minutes in Sports" referring to its approximate duration. It is known for its big hats and mint juleps and Millionaires Row.
Pimlico Race Course in Baltimore Maryland is the site of the Preakness Stakes, the second race towards the Triple Crown, and is held the third Saturday each May. The race is termed "The Run for the Black-Eyed Susans" after the state flower, however as Black-Eyed Susans do not bloom until June, none have actually ever been used in the blanket of flowers draped over the winner
Belmont Park in Elmont, New York is the site of the Belmont Stakes. First run in 1867, it is the oldest of the Triple Crown races predating the Preakness Stakes by six years and the Kentucky Derby by eight years. Known as "The Test of Champions", it is the final race of the Triple Crown and is run five weeks after the Derby in early June.  The winner of this race is draped with a blanket of white carnations.
Triple Crown Winners and Jockeys:
1919: Sir Barton – Johnny Loftus
1930: Gallant Fox – Earl Sande
1935: Omaha – Willie Saunders
1937: War Admiral – Charley Kurtsinger
1941: Whirlaway – Eddie Arcaro
1943: Count Fleet – Johnny Longden
1946: Assult – Warren Mehrtens
1948: Citation – Eddie Arcaro
1973: Secetariat – Ron Turcotte
1977: Seattle Slew – Jean Cruquet
1978: Affirmed – Steve Cauthen
2015: American Pharoah – Victor Espinoza
You might also like: