Electricity is something most of us don't spend a lot of time thinking about, unless your power goes out. Why am I writing about electricity?
Appliances.
While waiting for my toast to pop up this morning, I was absently thinking of appliances. WOW, imagine a time when there were no appliances?
How did Thomas Edison's 1879 invention of a reliable, long-lasting electric light bulb bring electricity and the invention of appliances into homes?
Small electrical stations based on Edison's designs were in a number of US cities by the end of the 1880s but most Americans still lit their homes with gas light and candles for another fifty years.
By 1930, the majority of people living in larger towns and cities had electricity but only 10 percent of Americans who lived on farms and in rural areas had electric power.
To bring electricity into households, Edison thought of a system that used the home's existing piping as its framework. But, with this system, there was no convenient way of tapping into the power for anything other than light.
Harvey Hubbell designed a "Separable Attachment Plug" that was wired to an appliance and homeowners didn't have to deal with connecting live wires from the home to the appliance. He later improved his design by making it with one portion that could be left in the socket and the other was a two-prong plug that was attached to the appliance and could be separated from the socket plug.
His plug also let you "leave the lights on" while using your appliance. Light-socket connections for appliances persisted into the 1920s. I remember seeing these sockets in the ceiling light sockets in the basement of my grandparent's house.
An article by James Ryan published in October 1929 included an itemized list of the 7 to 11 electric appliances commonly found in homes. These were: washing machines; vacuum cleaners; refrigerators; flat irons; toasters; curling irons; percolators; heating pads; corn poppers; vibrators; and manglers (used to iron sheets)
The grounded plug, the one with two vertical blades and a round grounding pin, was a "necessity is the mother of invention" idea. It is told that engineering student, Philip F. Labre, landlady's cat would knock over her fan when it came in her window. When she plugged the fan back in, she would get an electric shock. Labre figured out that if the plug were grounded, the electricity would go to earth through the plug rather than through his landlady. He was issued a US patent for grounding receptacle and plug in June 1928.
One 1928 ad featured a fashionably dressed woman leaving to play golf during the day because, as the caption insists, she was 'no longer tied down by housework' since she 'spring cleans with electricity' which was readily available 'at the flip of a switch.'
So, what were the first electric appliances?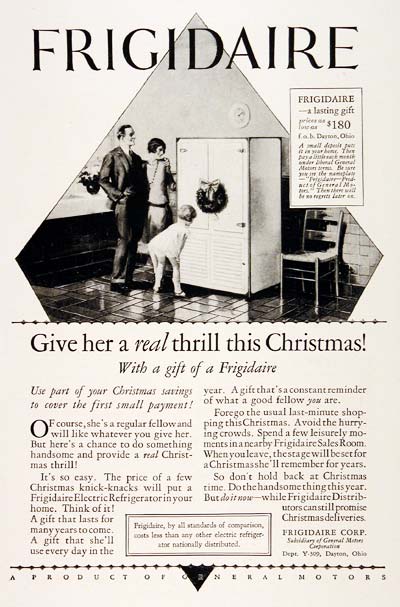 1800 – Electric battery invented by Alessandro Volta
1820 – First electric light demonstrated by Warren de la Rue
1821 – Electric motor invented by Michael Faraday
1821 – Electric doorbell invented by Joseph Henry
1854 – First light bulb invented by Hinrich Globel
1865 – Patent for electric coffee percolator issued to James Nason
1875 – Light bulb patented by Woodward & Evans
1879 – First practical incandescent light bulb demonstrated by Thomas Edison
1880 – First electric elevator constructed
1881 – First commercially successful dry cell battery invented by Carl Gassner
1882 – Electric Christmas lights introduced by Edward Johnson
1821 – Electric iron patented by Henry Seely
1885 – Electric mixer patented by Rufus Eastman
1886 – Electric dishwasher invented by Josephine Cochrane
1821 – Electric fan invented by Schuyler Wheeler
1889 – Home electric sewing machine introduced by Singer
1890 – First electric hair dryer patented by Alexandre Godefoy
1891 – Electric stove invented by Carpenter Electric Heating Co.
1821 – Alternating current (AC) introduced in U. S.
1893 – Electric toaster invented
1896 – Electric stove first patented (not for home use)
1898 – Battery-powered flashlight invented
1899 – Rechargeable battery invented by Waldmar Jungner
1900 – Electric toy trains invented by Joshua Lionel Cowen
1901 – Alkaline battery invented by Thomas Edison
1901 – Electric vacuum cleaner invented by Hubert Booth
1902 – First electric air conditioner in operation in Brooklyn
1903 – First electric washing machines patented
1901 – Lightweight electric iron introduced by Earl Richardson
1901 – Flashlight patented by Conrad Hubert
1905 – First moveable vacuum cleaner invented; weighs 92 pounds; doesn't sell well
1906 – Permanent wave machine invented by Karl Nessler
1907 – Electric amplifier invented by Lee De Forest
1901 – Lightweight portable upright electric vacuum cleaner invented
1901 – by James Spangler
1908 – Electric coffee percolators first appear in American stores
1901 – Spangler's electric vacuum cleaner patented by William Henry Hoover
1901 – First electric-powered washing machine, the "Thor," introduced by Alva Fisher
1901 – Standing mixer patented by Herbert Johnson
1909 – First American-made electric toaster introduced
1910 – Hotpoint introduces the first electric stove
1911 – Single-beater electric mixer patented by Hamilton Beach
1910 – Waffle iron introduced by General Electric
1910 – Neon lights invented
1913 – Electric dishwasher introduced by Walker Brothers
1910 – Bissell introduces 33-pound Electric Suction Cleaner
1910 – First in-home electric refrigerator introduced by General Electric
1915 – Electric clothes dryers appear on the market
1910 – Oven thermostat developed
1910 – Nine-pound vacuum cleaner introduced by Franz
1916 – Kelvinator introduces its first electric refrigerator
1910 – First electric lawn mower introduced
1910 – First radios with tuners allowed listeners to change stations
1918 – First refrigerator with automatic controls introduced by Kelvinator
1919 – Pop-up toaster with built-in timer invented by Charles Strite
1910 – Stand mixer for the home introduced by KitchenAid
1910 – Cone-shaped Christmas lights introduced by General Electric
1920 – More than 200 different brands of refrigerators sold in U.S.
1931 – Airway introduces vacuum cleaner with disposable bags
1931 – First commercial radio broadcasts with regularly scheduled programming heard
1922 – Electric blender invented by Stephen Poplawski
1931 – Electric kettle introduced
1931 – Over 3 million electric irons have been sold since 1912
1931 – Radios appear in 3 million American households
1923 – Frigidaire introduces electric "self-contained" refrigerator
1931 – Cathode ray tube for television invented by Vladimir Kosma Zworykin
1924 – Air conditioners first used for human comfort rather than industrial cooling
1931 – Loudspeaker for music invented by Kellogg & Rice
1931 – Spin dryer appears on the market
1925 – Frosted light bulbs first produced
1926 – Toastmaster's pop-up toaster invented in 1919 finally goes into production
1927 – Electric in-sink garbage disposal introduced
1931 – Electric iron with temperature control introduced by Silex
1931 – Quartz-powered clock developed by Warren Marrison
1931 – Experimental fluorescent lamp patented
1931 – Monitor Top refrigerator introduced by General Electric
1931 – GE introduces first in-home television receiver
1928 – First air conditioners for home use introduced by Carrier
1931 – Electric "Mixmaster" patented by Sunbeam Corporation
1931 – Improved electric permanent wave machine patented by Marjorie Joyner
1931 – Over 45% of American homes have a radio
1929 – Electric shaver introduced by Jacob Schick
1930 – First plastic vacuum cleaners introduced
1931 – First television broadcasts made in U. S.
1931 – GE introduces first room air conditioning unit
1931 – 1.2 million toasters sold in America
1931 – Henry Ford presented with one millionth GE Monitor Top refrigerator
1931 – Electric can opener introduced
All this from waiting for my toast to pop up! What do you think was the best use of electricity?