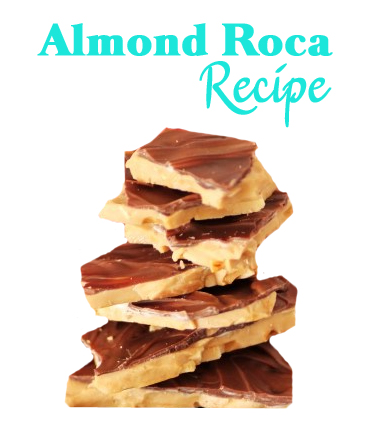 Almond Roca is one of my absolute favorites and unless it's Christmas, the closest I can come to is grabbing a Heath bar at the grocery store checkout to curb my cravings. That is until I tried this yummy, easy recipe:
1/2 cup slivered almonds
1 cup sugar
1 cup butter or margarine
3 tablespoons boiling water
2 tablespoons light corn syrup
1/2 cup semisweet chocolate chips
1/2 cup white baking chips
Spread almonds on a greased 15-in. x 10-in. x 1-in. baking pan and bake at 300º for 15 minutes or until they are golden brown and toasted.  Remove  from oven.
Put butter and sugar in saucepan.  Cook over low heat for 5 minutes stirring occasionally.
Add water and corn syrup and bring mixture to a boil using medium heat. Insert a candy thermometer and cook until it reads 300º (hard crack stage), while stirring occasionally.
When temperature is reached, pour the mixture over the almonds on the cookie sheet.  Sprinkle the chips on top and allow them to melt for 1-2 minutes. Once melted, spread the chocolate over the candy and allow to cool completely.  Break into pieces.
Tags: Candy Recipes, chocolate