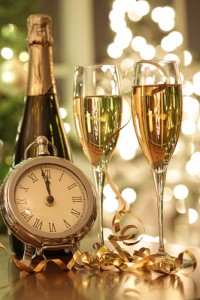 Fabulous appetizers, hors d'oeuvres, cocktails and champagne are a hit for a New Year's Eve party. By starting your party around 8:00 or 9:00 p.m., after the dinner hour, you can skip a full meal and let guests enjoy a buffet of appetizers, hors d'oeuvres, mini sandwiches and a mini dessert bar at midnight with champagne.
What's the difference between appetizers and hors d'oeuvres? Hors d'oeuvres are associated with finger foods and do not require utensils to eat such as a pate or caviar on a cracker. If your New Year's Eve party invitations say "heavy hors d'oeuvres", it usually means there is no meal to follow, the hors d'oeuvres "are" the meal. Appetizers can require utensils and are usually served during a meal as a first course.
When deciding on what to serve, if you are not having a dinner and because of the duration of a New Year's Eve party and the alcohol consumption, you should allow 12-15 hors d'oeuvres/appetizers per person.
If you are providing tables and chairs for guests, including appetizers that require a fork can be appropriate. If seating is limited, it is more appropriate to only include hors d'oeuvres that can be easily eaten with the hands. If your New Year's Eve party invitations requested quests to dress in "holiday festive" or "holiday chic", your elegantly dressed guests might not enjoy elaborate dipping sauces or messy hors d'oeuvres. Sticking to items which are easy to eat and do not result in a great deal of mess will be greatly appreciated by all of the guests.
Pages: 1 2