Archive for the 'Promotions' Category
Wednesday, December 1st, 2010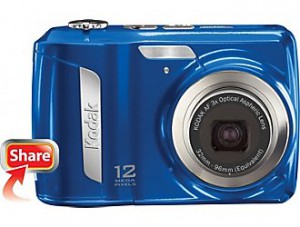 Thanks to all our Twitter and Facebook Social Media followers!  We had a blast reading the tweets and creative facebook posts about winning the Kodak Easyshare Camera.
And the winner is:  Barb Noga who posted this entry on our Facebook Page:
I'll win Announcingit's Kodak Easyshare Camera giveaway because my husband took my Kodak Easyshare fishing this summer and it went overboard when his friend was standing on the bow trying to take a picture of the fish my husband caught and a wave rocked the boat. Now I don't have a camera to take pictures of …my grandchildren.
Congratulations Barb! We loved your entry when we first read it on November 10th and we laughed again when you were chosen the winner!
Are you following us on Twitter or Facebook? What are you waiting for? Another fabulous giveaway will be launched December 6th so join us today so you don't miss out…you're going to love it!
Contest winner was picked at random from all social media entries. Contest rules and details are posted on our website.
---