With fall around the corner, here's a fabulous spin on caramel apples that combines some of my favorite tastes – cheesecake, caramel and apples.  If you have an apple slicer, this dip will go from a thought to the table in no time. Only 3 ingredients!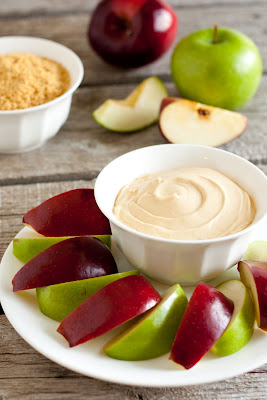 Ingredients:
2 (8 oz) pkg cream cheese, chilled
1 cup caramel ice cream topping, chilled (I used Hershey's in the glass jar)
1 store bought graham cracker pie crust, crumbled
Directions:
Place cream cheese in a mixing bowl and using an electric mixer, whip cream cheese until smooth and fluffy for about 1 minute. Stir in caramel ice cream topping. Break graham cracker pie crust into pieces and place pieces in a ziploc bag, then seal bag and using a rolling pin crush graham cracker crust pieces until finely broken (there should no longer be chunks). Serve with apple slices. Dip apple slices into caramel cheesecake dip then into broken graham cracker crust. Store cheesecake dip in refrigerator up to one week.
Note: this dip is also delicious with a bit of cinnamon (about 1/4 tsp) and a few dashes of nutmeg mixed in.
Yields enough for a small crowd (half a recipe would be enough for about 5 people)
Recipe Source: Cooking Classy
Tags: desserts, dips, Fruit Dips, Party Dips