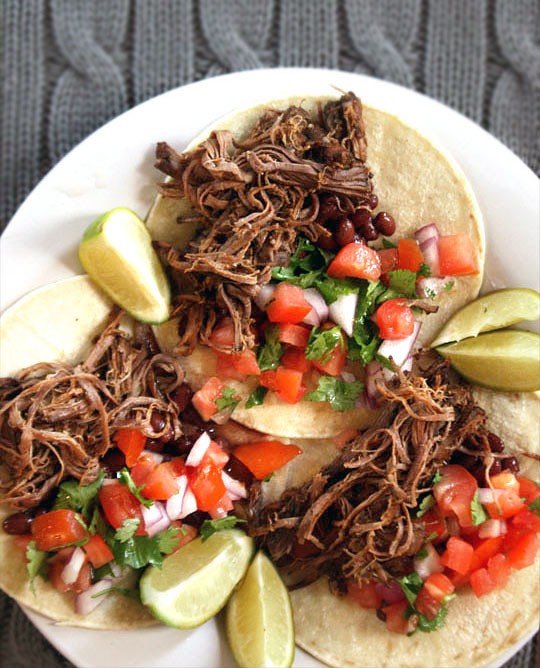 Barbacoa is a simple dish of seasoned beef brisket that can be made into all sorts of meals – tacos, burritos or extreme nachos.
Ingredients:
4 chipotle peppers (from a can of peppers) and add all the adobo sauce from the can
1 bunch cilantro, chopped
1 red onion, peeled and cut into large chunks
1 head garlic, peeled and cloves smashed
2 teaspoons ground cloves
1 tablespoon kosher salt
Juice of 4 limes
1/2 cup cider vinegar
5 to 7 pounds beef brisket
4 to 6 cups beef or chicken stock
5 dry bay leaves
Directions:
Mix together chipotle peppers and sauce, cilantro, red onion, garlic, ground cloves, salt, lime juice, and cider vinegar in the insert of a slow cooker (if you have a food processor, pulse till combined first before adding).
Place the brisket on top of this mixture. You may want to cut the brisket into 2 pieces to fit in your crockpot better.  If you do cut the brisket into 2 pieces, you might want to switch them after 2 hours so both pieces have a chance to sit on the bottom and tenderize.
Add stock to cover the meat and place bay leaves on top. Use tongs to move the meat around gently to combine everything and put the lid on.
Cook on HIGH for 4 hours. Once finished, turn crock pot to WARM and let sit for 6 to 8 hours.
Remove the brisket from the crockpot and place on rimmed baking sheet. Use two forks to shred the meat apart. Discard the fat, if desired. If you plan on frying it again before use, the small fat bits are extra tasty and should be kept!
To Serve:
Place shredded beef in large bowl and ladle cooking liquid over the top a few scoops at a time. You want the meat to hold the liquid but not swim in it.
Makes enough meat to stuff 30 tacos
Source:  The Kitchn