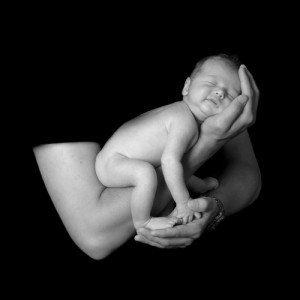 With a few helpful tips, you can take a professional style photo of you and your baby for your holiday photo cards.
Things you will need:
A Baby (duhhhh)
A Digital Camera
A Black T-Shirt
Mom or Dad (to hold the baby)
A Photo Editing Program
Have mom or dad (or both) put on a solid black t-shirt and hold their baby in their arm(s) close to their body. Take more pictures than you think you'll need so you have lots to look through to find your favorite.
Make sure you have good lighting because you don't want to use a flash unless you have a special kind of flash or a diffuser on your flash. Natural light is good, or even a lamp to retain tones on your photos. The photographer should  take pictures with the light behind them, and try and position everything so that there are no major shadows.
Load the pictures on to your computer. With your photo editing software, crop the pictures so that nothing but arms and the upper half of the baby's body are showing. On your photo editing program change the picture (if haven't used the option on your camera already) to sepia. Then use the brightness/contrast setting to adjust the contrast. The goal here is to get the black t-shirt to be a solid black background.
Once you've selected your favorite photo, it's time to order Christmas photo cards to show off your newborn to friends and family.
You might also like:
Tags: photographing your baby, photography, taking photographs