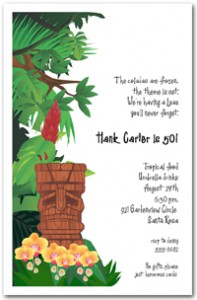 Party invitations might be easier to send by email or a by flyer created from your home computer, but if you want people to get excited and actually come to your party, sending custom printed party invitations win hands down. 
Snail mail has its advantages, one being privacy, the other being that a custom printed invitation lets guests know you have taken the time to do it right. Beautiful invitations also build excitement and anticipation from the moment guests open them and social media just can't duplicate that feeling.
Unless you are promoting a business event, using social media as a means to invite party guests to a personal event is a risky proposition.
If you should get the urge to use Twitter or Facebook as the source of your event invitations, be careful. Are you really inviting every one of your social media followers to your party? You could end up with an out-of-control number of party guests, "followers" that are really "in-the-flesh strangers,"  or a lot of hurt feelings from unread posts or non-follower friends being left out if you rely on social media as your main source of inviting and relaying party details.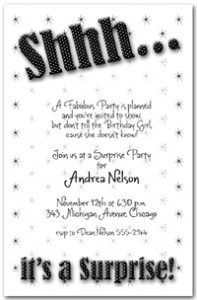 Don't forget that Twitter messages are public and they can be seen by anyone at anytime, even total strangers.  To see this yourself, from your Twitter account, run a search on the word "invitations" or "party." Your screen will be filled with "non-followers" tweets. Even more amazing is the "Tweets Near You" function. With one click, the world's tweets have just been narrowed down to "near" your location. For your safety and the safety of your guests, resist the urge to tweet or post your personal address, email, phone number, party location, date and time.  
The same safety issue applies to Facebook. While you may have made your Facebook "Wall" private, some of your most "private" information is not blocked from a stranger's view. With a few clicks through any Facebook page or any "friends" page, a stranger can view all the personal bio details you have posted on your Facebook Info tab. The info fields Facebook has made available include:  your sex, your birthday, your children, siblings, parents, grandparents, aunts/uncles, your relationship status, anniversary, hometown, religious views, contact information – email address and/or website links, likes and interests, education and where you work, plus what you are looking for with your Facebook page such as friendship, networking, etc.  The Facebook Photo and Video tabs are also viewable by anyone and photos can be "tagged" with names of the individuals in each photo.  A completed Facebook Info tab might contain more information than your parents, husband or best friend ever knew about you and the information is available to anyone who logs in to Facebook whether they have "liked" you or not. Be careful if you decide to post your party invitation or any party details on your wall.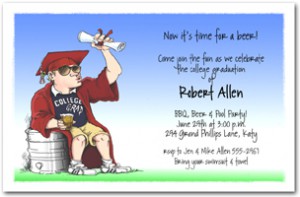 While emails and flyers have their uses for college kids and last minute events, taking the time to snail mail a beautiful invitation, hand addressed to your guests, shows you are serious about your event and are taking the extra steps to ensure a great party that shouldn't be missed. Anticipation builds the moment your invitation is received. 
Your invitation sets the tone for your party and lets guests know what type of event you are having, the occasion you're celebrating, along with the date, time, location, food and drink info as well as party attire required.  If you need an actual headcount for your caterer or to keep to your party budget, make sure you include an RSVP phone number or email instead of using the term "regrets only". Guests can reply quickly to your supplied email address, call or text your phone number. The easier you make it to reply, the more people will do so.  Of course, you will have people that just forgot or didn't let you know if they are coming or not by your RSVP date, you will probably need to call several of them a few days before your party to confirm their attendance.
While most of us use email and social media in our daily lives, impress your guests with custom printed party invitations. They'll thank you by attending your party!