If you're looking for ideas for what to serve for your Kentucky Derby Party, this Kentucky Country Ham Salad is yummy and a nice addition to your menu. It's also wonderful as a luncheon or summer salad for any occasion.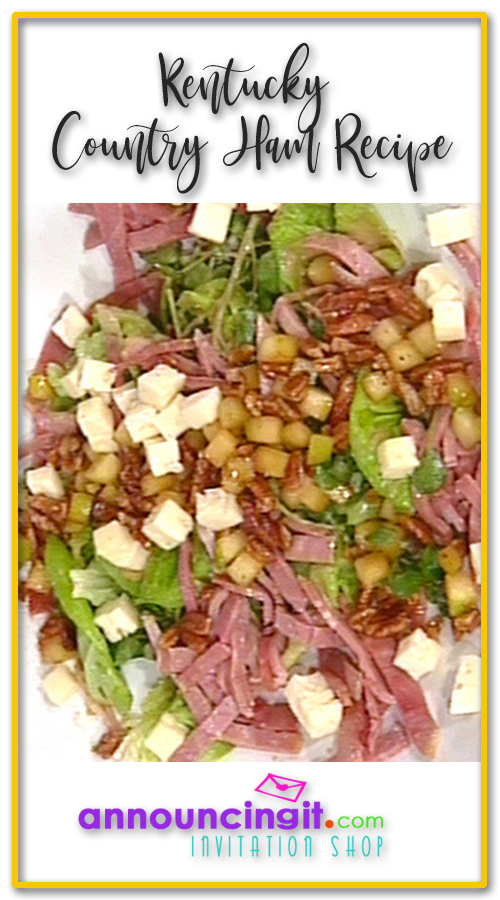 Kentucky Ham Salad
Ingredients:
2 tablespoons unsalted butter
3/4 cup pecan pieces
1/4 cup packed light brown sugar
1/2 teaspoon Essence, recipe follows
1 cup diced unpeeled Granny Smith apples, tossed with lemon juice to prevent discoloration
2 tablespoons balsamic vinegar
1 tablespoon chopped shallots
1 teaspoon Kentucky bourbon
1/2 cup olive oil
2 tablespoons sour cream
1/4 teaspoon salt
1/4 teaspoon freshly ground black pepper
1 head Kentucky bibb lettuce, separated into leaves, washed and spun dry
1 bunch watercress, stems removed, washed and spun dry
1 cup julienned baked Kentucky country-cured ham
6 ounces Kentucky Port Salut cheese, cubed
Chopped chives, garnish
Directions:
In a large skillet, melt the butter over medium-high heat.
Add the pecans, and cook, stirring, until lightly toasted and fragrant, 3 minutes.
Add the sugar and Essence (recipe below), and cook, stirring, until the sugar is melted, 30 seconds.
Add the apples and cook until the sugar is caramelized and the apples are tender, about 3 minutes. Remove from the heat and transfer to a baking sheet lined with waxed paper or aluminum foil, and separate with a fork.
In a bowl, whisk together the vinegar, shallots, and bourbon.
Add the oil, whisking, until smooth.
Add the sour cream, salt, and pepper, and whisk until smooth.
Adjust seasoning, to taste.
In a large bowl, place the whole lettuce leaves, watercress, ham, and cheese.
Add about 1/2 cup of dressing and toss to coat.
Divide among plates and top with the candied apples and pecans.
Drizzle with dressing and top with freshly ground black pepper to taste. Sprinkle with chives and serve.
(4-6 servings)
Emeril's ESSENCE Creole Seasoning (also referred to as Bayou Blast):
2 1/2 tablespoons paprika
2 tablespoons salt
2 tablespoons garlic powder
1 tablespoon black pepper
1 tablespoon onion powder
1 tablespoon cayenne pepper
1 tablespoon dried oregano
1 tablespoon dried thyme
Combine all ingredients thoroughly.
Source: Emeril Lagasse
---
You might also like: