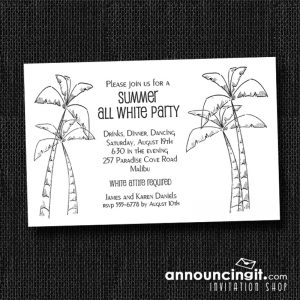 "It can't rain!"
Has the weather ever been a factor when you're planning a party or other activity?
Our native California employees all say "What's a rain date?" when a customer submits that phrase on their invitation order.
So, what is a rain date?
It's an alternative date that an event will be held if the scheduled event must be postponed due to rain or bad weather.
So, if at the bottom of an invitation you find "Rain date is April 9th," don't forget to mark your calendar for both the party date and the rain date. If bad weather looms the morning of the party, you might want to check with the hostess if she hasn't called you.
We know, somebody has to live here in Southern California where weather really isn't a factor when we're planning our lives or activities. As the country looks forward to the first days of spring, we've been creating fabulous invitations that put you in the mood to party!
So rain or shine, have a great time at your next party and let us know if we can help you with party invitations!