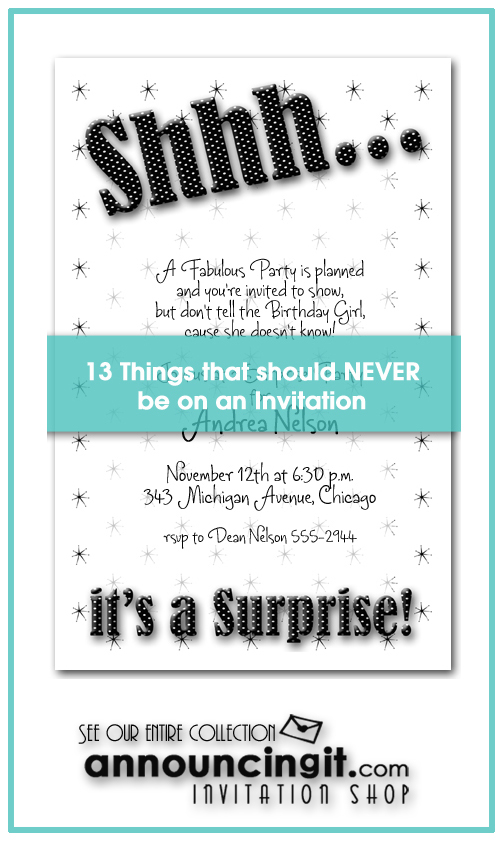 With today's "anything goes" attitudes, there are still some traditional rules that should be followed.  This is especially true when creating party invitations for any occasion.
Here are 13 things that should NEVER be on party invitations:
1.  Tense:  Invitations are always versed in third person.  Use "Anderson Marketing invites you to their annual barbecue…", "at their house…" Never use "our," "mine" or first person.
2.  Punctuation:  Invitations use line breaks or blank space between paragraphs to act as punctuation and periods are never used.  Exception is when using a poem, quote or saying. Be sure to go lightly with the commas, exclamation points and when in doubt, leave it out.
3. Capitalization:  Never use capital letters for the first letter of each and every word on an invitation.  Save the capitals for the beginning of a section or the first word of each line, proper names and other words that are normally capitalized. Use a bold or a larger font for emphasis, not all caps.
4. Abbreviations: Always spell out Street, Road, Apartment and names of States. The state is not required if all your guests are local or the state is  obvious with cities like Chicago, Atlanta, New York. Numbers 1-9 should always be spelled out such as "Two Park Place."
5.  Time:  The word "o'clock" is never capitalized. It is also never used after a time that is not a whole hour.  Use five o'clock, not 5:30 o'clock. When using anything but whole hours, use uncapitalized a.m. or p.m. (with periods). If you add "in the morning" that applies from 12:01 a.m. until noon; "in the afternoon" from noon until six p.m.; and six p.m. and after "in the evening."
6. Registry/Gifts: Never indicate that money is preferred over gifts. Never include any gift registry information.  This information should be relayed when guests call to RSVP or by word of mouth from the family if asked. Never state anything about gifts – even "no gifts" as it makes the assumption that gifts are expected.
7.  Meal Choices:  If your party or event requires guests to make meal choices, include this information on a separate insert card, response card  or RSVP card.
8. Directions:  Never include driving directions or maps on the invitation. This information should always be included on a separate card. Do not use photocopied maps. Any maps or directions should be printed in the same style and on the same paper as your invitations when possible.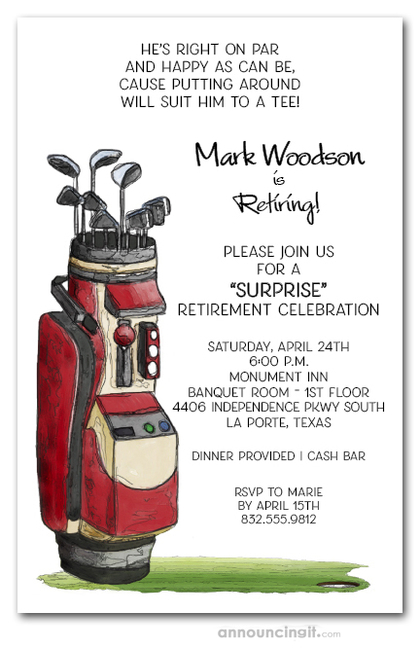 9. Zip Codes:  Zip codes are never printed on invitations. They are not necessary to get directions on website mapping services.
10.  Sizes/Measurements:  This information is personal and a bride or guest of honor may not want these stats printed for all to see.  Measurements or clothing sizes should be relayed by word of mouth when guests respond to the party invitations.
11. Children:  Do not use the phrase "no children" or "adults only." How you address your envelope indicates who is invited and not invited to the party. If children are not listed on the envelope, they are not invited to the party.  When guests RSVP and add names or guests that are not invited, politely tell them or call them right away and explain who is invited.  If you think someone will automatically bring their children, consider calling them and state simply that as much as you would like to accommodate children, you simply don't have the room to do so.
12. Attire:  Usually your invitations will be an indication of the attire for the party. The fancier the invitation, the fancier the dress. An invitation to a outdoor barbecue has it's own implied dress code and a wedding invitation with multiple insert cards will obviously be a dressy, if not formal event. If your event is a costume party and costumes are required, this should be included, possibly in a small font on the bottom or as "You're invited to a Halloween Costume Party…" Check out our Party Dress Codes for ideas on how to dress for all social occasions.
13. Labels:  If at all possible, never use address labels on invitation envelopes. Absolutely NEVER use labels on wedding invitation envelopes for guests or for your return address.  You've spent time, attention and money to create perfect invitations and they deserve hand-written addresses on the envelopes. This will make a HUGE impact on your guests when they receive your invitations in the mail.
There is nothing wrong with do-it-yourself invitations, but NEVER send anything that looks homemade.  A laundry list of facts and clip art on copy paper will not impress your guests and your turnout could suffer.  Generally, you will save money by letting the experts — invitation printers and hopefully us — do your invitations. This is our area of expertise and you won't have to spend time and money experimenting until you get it right.

20% off INVITATIONS | Use Discount Code DOINVITEU20