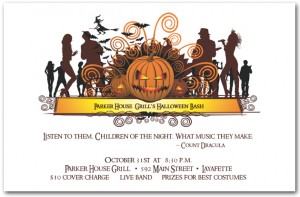 Costume parties and masquerade balls have been around for centuries and they are still popular themes today for Halloween, Mardi Gras and birthday celebrations. A "Costumes Required" Halloween party will mean any costume is appropriate and lots of "Halloween" costumes – scary creatures, vampires, ghouls, and such will arrive at your party.
If you have something more sophisticated in mind such as a "Masquerade Ball", you will need to be very specific on your invitation as to what costumes are the theme of the evening with descriptions such as "Medieval Times Costumes" or "Roaring 1920's Attire Required."  Whatever you envision for your party, make sure you are specific or you may be surprised at "what" shows up at your door.
When a theme party sets the tone for the evening, guests often will go to a great deal of effort on their costumes and prizes are enjoyed and appreciated and don't have to be expensive. You can give prizes for "Overall Best Costume", "Best Mystery Costume" to the guest no one could tell who they were, "Most Outrageous", "Best Period Costume", or anything that fits your party's theme.
If you're having a "Ball", dancing will be a part of the evening. You can provide the music or even have a karaoke contest. If something more elaborate is called for, wandering entertainers, magicians and fortune tellers would be great attractions.  Be sure to have a few masks and capes on hand for guests that insist on showing up out of costume.
Shop all Halloween Party Invitations
Shop all Halloween Party Favors
Shop all Party Invitations