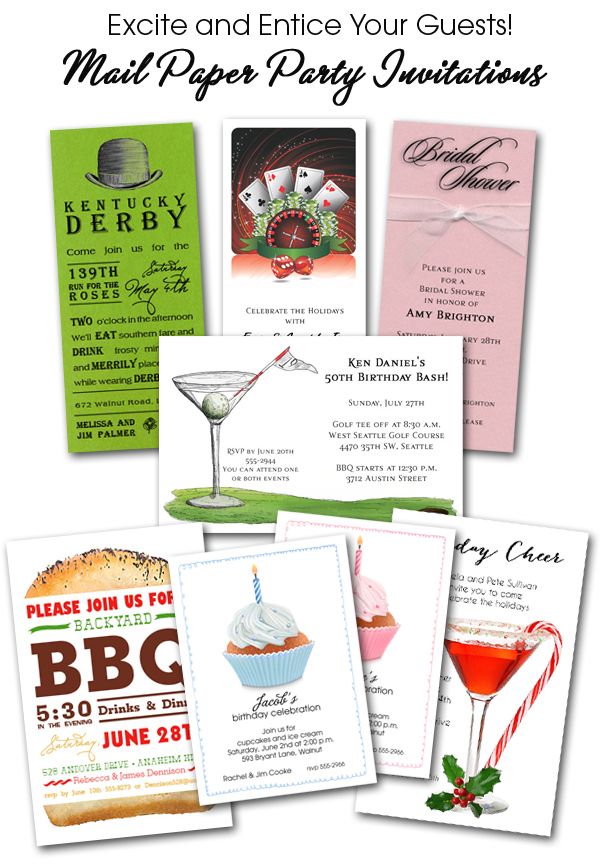 Mailing your guests paper party invitations sets the tone for your party and creates buzz around your bash.  But, are paper invitations really necessary?
My sister got into a discussion with her hairstylist about paper invitations versus electronic and the stylist described how technology was changing and she had just received a cute emailed invitation that flying birds and how cute it was.
Cute or not, I'm sorry, but when I get an electronic invitation, my first reaction is "Really?"
Is this a last minute party?
Am I a last minute guest?
They couldn't afford paper and stamps?
Yes, for a last minute cocktail party, I'll text my friends or call them, but I just don't trust something as important as their attendance is to my affair to their email inboxes.
Call me old school, but there is just something fabulous about the feeling you get when you open the mailbox and there's something in there besides bills and ads.
Aside from the fact that I own a company (this one) that prints party invitations, I'm always surprised how cheap I feel when I get an e-invite or an invitation that looks homemade or a postcard the post office has mangled and made almost unreadable. (There are ways to make homemade invitations look fabulous and those aren't the ones I'm talking about.)
Your invitation is the first impression people have of your party. They can't see the amazing food on your menu, the incredible way your house is decorated or how much fun it's going to be.  A laundry list of facts printed on a piece of copy paper and folded into an envelope that looks like a bill, is not going to make it to the top of the pile when it comes to scheduling upcoming events on your guests' calendars.
You can't post an electronic invite to your fridge. Well, I guess you could print out some of them, but you'll lose the flying birds and a lot of its appeal when you try to get it to print on copy paper.
We understand that cost can seem like an issue when you compare it to doing-it-yourself or free emailed invitations, but you only get one shot to make a first impression.  If your invitation doesn't make the grade, having a bad turnout for your party can be depressing as well as expensive in wasted food, drinks and time.
For the do-it-yourselfers, we do sell some of our invitations blank so you can print them yourself. If you're not familiar with how to typeset an invitation or how to print on anything but 8-1/2″ x 11″ paper, we suggest you skip the hassle and the learning curve and let us print them for you.  We've been printing invitations for over 20 years, we have the cool fonts you would have to search the internet for and if you screw up when printing, you'll have to buy more invitation paper.
We suggest you skip the stress of DIY and use your time for the million other things you will need to do for a successful party. And, of course, for the best party turnout, go old school and mail party invitations that will excite and entice your invited guests to attend your event.