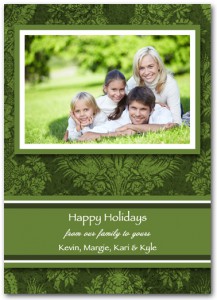 Do you dread taking a family photo each year for your Christmas photo cards? With a few tips and a reward thrown in, you can turn this chore into a fun family tradition.
Mount your camera on a tripod and use a self-timer so the photo taker can be in the photo too. Do a variety of poses and rearrange everyone so you have a choice of several images to use. Then celebrate by going out to dinner or set another tradition you can all look forward too after the photo taking is done.
If you have a fabulous vacation photo with everyone in it, by all means, use it for your photo holiday cards. You don't have to use formally posed photographs or winter scenes for your cards.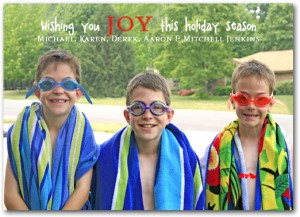 Before mailing your Christmas photo cards, add a personal touch to your cards by writing a personal message on the back (with a sharpie so it doesn't smear) or include a family newsletter for everyone to catch up on what your family's been doing for the past year.
Shop our Digital Holiday Photo Cards