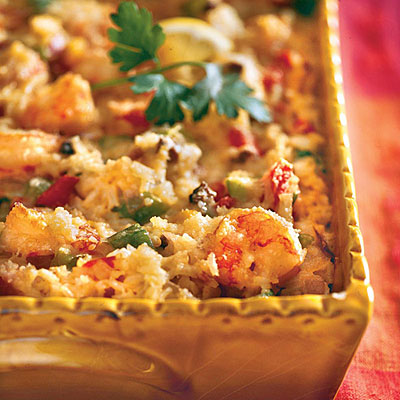 If you are searching for recipes for Mardi Gras or if you just love shrimp, you'll love this incredible seafood casserole that is spicy, cheesy and filled with shrimp.  I don't care for okra, so I only used about a cup in mine, just enough to be able to ignore it was there. If you like cheese, put extra on the table for guests to add more if they wish.
Ingredients:
2 pounds unpeeled, large fresh shrimp
1/4 cup butter
1 small red onion, chopped
1/2 cup chopped green bell pepper
1/2 cup chopped red bell pepper
1/2 cup chopped yellow bell pepper
4 garlic cloves, minced
2 cups fresh or frozen sliced okra
1 tablespoon lemon juice
1 1/2 teaspoons salt
1 (10 3/4-ounce) can cream of shrimp soup or
cream of mushroom soup
1/2 cup dry white wine
1 tablespoon soy sauce
1/2 teaspoon cayenne pepper
3 cups cooked long-grain rice
1/4 cup grated Parmesan cheese
For garnish: quartered lemon slices, fresh flat-leaf parsley sprigs
Directions:
Peel shrimp; devein, if desired (I buy it already deveined)
Melt 1/4 cup butter in large skillet over medium-high heat. Add onion and all the peppers; sauté 7 minutes or until tender.
Add garlic, and sauté 1 minute.
Stir in okra, lemon juice, and salt; sauté 5 minutes.
Add shrimp, and cook 3 minutes or until shrimp turn pink.
Stir in soup and next 4 ingredients until blended.
Pour into a lightly greased 11- x 7-inch baking dish. Sprinkle evenly with Parmesan cheese.
Bake at 350° for 15 to 20 minutes or until casserole is bubbly and cheese is lightly browned. Garnish, if desired.
You can make this a day ahead of time – don't put on the Parmesan Cheese, cover and put in the refrigerator or freezer.  To cook, let it stand at room temperature for 30 minutes before cooking.
If frozen, bake at 350° for 50 minutes, add the Parmesan cheese and bake for 10 more minutes or until cheese slightly browns.