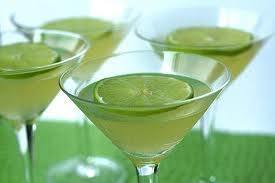 Margarita Jello Shots are a slightly more sophisticated version of jello shots and add a touch of fun to your party.
Ingredients:
1 tbsp. unflavored powdered gelatin
¾ cup water, divided
1 cup sugar
½ cup freshly squeezed lime juice
¼ cup tequila
¼ cup orange-flavored liqueur (I used triple sec)
Directions:
In a small saucepan, sprinkle the gelatin over ¼ cup of the water. Allow to soften for 5 minutes.
Add the rest of the water and the sugar to the pan and heat, stirring, over medium-high heat until the sugar and gelatin are dissolved.
Remove from the heat and let cool.
Stir in the lime juice, tequila and orange liqueur.
Taste and adjust ingredients accordingly.
Pour into small serving glasses and refrigerate for several hours until set.
Serve cold.
Tags: Cinco de Mayo Party, jello shots, margaritas