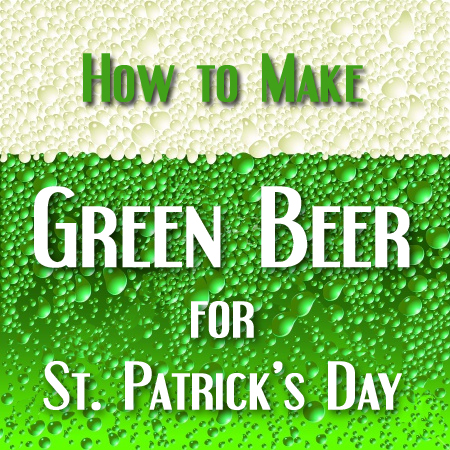 Green beer on St. Patrick's Day! All the pubs will be serving it, but if you decide to have your own party, how do you make your beer green for St. Patrick's Day?
To turn beer green, you can use either blue or green food coloring
For a shamrock green beer color, use blue dye, especially if you are serving light or yellow beers
For a bright lime green beer color, use green food dye
If you're not sure what color to use, food coloring is inexpensive, so you can buy both colors and experiment to get the color you want for the party
No stirring will be required if you add 2-3 drops of dye to the bottom of your mug before you pour the beer
For kegs, it's almost impossible to dye the beer in the keg, so you should put the dye in each cup as you pour each beer (designate one person to control the dye so it doesn't end up where you don't want it)
Be careful with the dye as it can color more than your beer if you're not careful
13 million pints of Guinness are served on St. Patrick's Day, more than double a normal day. What beer will you be serving?
You might like:
– St. Patrick's Day Invitations
– Green Party Favors