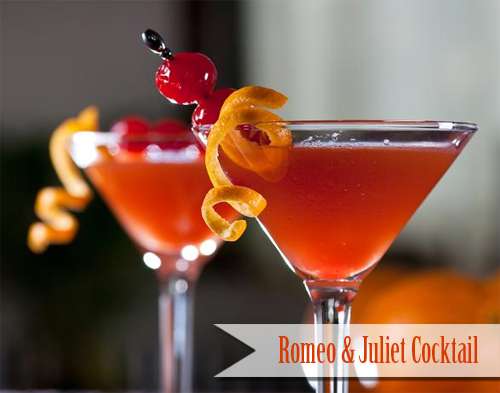 Looking for a tasty cocktail to serve on Valentine's Day for a party or a romantic dinner for two? Try the Romeo and Juliet Cocktail. It starts with my favorite, Patron Silver tequila, and the mix of Grand Marnier, Chambord and peach juice is fabulous.
Ingredients:
1 1/2 oz. Patron Silver tequila
1/2 oz. Grand Marnier
1/4 oz. cherry or Chambord raspberry liquor
2 oz. chilled peach juice
3 maraschino cherries, garnish
Orange spiral, garnish
Fill a cocktail shaker with ice; add tequila (you can substitute Absolut Apeach), Grand Marnier, cherry liquor and peach juice. Shake vigorously for 10 seconds and pour into a chilled fluted glass or large martini glass.
Place orange spiral on the lip of the glass so it drapes down the side. If you're using a fluted glass, drop a cherry into the drink.  For a martini glass, you can skewer three cherries on a swizzle stick and lay it across the lip.