One of the hardest events for most people to plan are corporate events. Even smaller events, for less than a couple hundred people, can be a real challenge if you are not a professional party planner. However, here are fifteen tips you can use to make your corporate party or corporate event a success:
1.  Always take the time to plan ahead. If you will be renting a special venue you will need to secure it as far in advance as possible. Some places can book up even a year in advance. By finding your venue early, and placing your deposit, you can ensure that you get the venue that you want.
2.  When you are planning a corporate event you need to set a very strict working budget and then make sure that you have extra cash for the unexpected expenses. You can be sure that every event will have some unexpected extra expenses, that is just simply part of planning an event.
3.  If you have contracts, agreements, lists, or seating charts, make sure you keep extra copies of them in case they are misplaced or lost. Copying them is very simple and quick and can really save you later on if you loose your plans.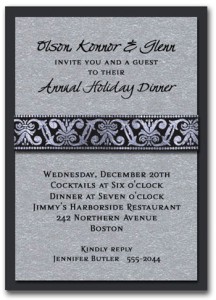 4.  Make sure you send out your invitations at least 3 to 4 weeks ahead of your event. If it is a holiday event or you know the date you've selected might be in high demand, consider sending out "Save the Date" cards a few months in advance of hour party.  Make sure that you ask your guests to RSVP so that you know how many people will be attending.   Don't use "Regrets Only" if you need a reliable head count.  Plan on calling the last rsvp holdouts too so you're not surprised by extra attendees.
5.  If you are creating a seating chart for your event, you can either set it up completely randomly or work with someone else in your company to come up with the best possible scenario to avoid faux paus in your seating choices.