Invitation Do's and Don'ts
---
20% off INVITATIONS | Use Discount Code DOINVITEU20

---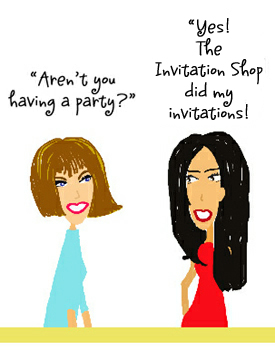 The excitement begins when your guests open their mailbox and find your invitation. Your invitation sets the tone for your occasion.
Does your invitation scream, "I can't miss this party it sounds fabulous!"
Or did you send out a letter sheet that reads like a grocery list of boring statistics that immediately got relegated to the pile referred to "maybe we'll think about it unless something better comes up."
Choosing your Invitations
Your invitation should match the style of your event.
Is it formal?
Is it semi-formal?
Casual backyard get together?
Business event?
Family and friends celebration?
Birthday party?
Anniversary?
Baby or Bridal shower for a friend?
Your invitation provides the details of the celebration as well as what to expect at the party.
A casual get together?
A corporate gala for 500?
A surprise birthday party for your husband of 20 years?
As for a theme for your invitation:
What are their hobbies or interests?
What's their favorite cocktail?
Is it a summer pool party?
A winter "we're freezing but need a reason to party" kind of thing?
You can use our site's Search feature to help narrow down your search for the perfect invitation.
---
When choosing your invitations, remember you already have a theme -- it's a party!
---
Next:
What to include on your invitations
Apostrophes: When and Where to Use Them
---

20% off INVITATIONS | Use Discount Code DOINVITEU20
---
Here are a few of our favorites: