Holiday Invitations & Christmas Invitations

Celebrate the Season and Share the Joy with Christmas, Holiday or Hanukkah Invitations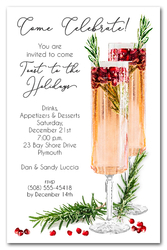 Whether you need Christmas party invitations, Hanukkah Invitations, holiday party invitations, holiday office party invitations, corporate holiday invitations or holiday invitations for celebrations such as a Christmas cookie party, holiday open house, Christmas cocktail party, you'll love our selection of colorful holiday invitations and Christmas party invitations with a variety of prices to fit your style & budget.
What kind of Christmas Party Invitations should you Choose?
What type of Christmas party do you want to have? A casual holiday cocktail party? A formal holiday dinner party? As you browse through our selection of holiday party invitations, there will be certain holiday invitation designs that just "jump out and grab your attention" because they speak to your style, your budget, or the color theme you have in mind.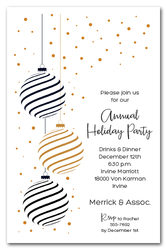 Impress your guests with the best! Send custom printed holiday party invitations your guests can't resist and enjoy a great holiday party and a fabulous turnout.
Don't make the mistake of skimping on your invitations. Your holiday party invitations need to make guests say, "We're going to this party!" Custom printed invitations can be the difference between a packed party or a dismal, embarrassing "is anyone coming?" turnout.
How is your holiday party invitation going to grab your guests' attention? That fact that you mailed a custom printed holiday party invitation shows your party is an occasion they don't want to miss!
When guests pull out their calendars, you want your custom printed holiday invitation on the top of the pile.
Casual invitations by phone to your Christmas party are too informal and often slip their minds if their calendar is not in front of them the moment you call. It's also ineffective for conveying the tone of your Christmas party like a custom printed holiday invitation does.
A letter sheet folded into a "bill-size" envelope that reads like a laundry list of boring details won't make it to the top of the pile in the bid for a coveted holiday party invitation date.
An emailed holiday invitation, provided guests remember to print it, loses it's appeal quickly when it's printed on plain white copy paper and gets lost in the pile of papers and bills on your desk.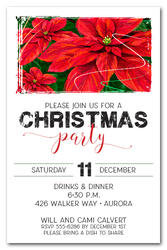 When mailing invitations, you'll want to do it as soon as possible. Consider your guests' holiday obligations. They have holiday invitations for his work, her work, their kids, their "other" friends, professional organizations they belong to, New Year's Eve, and you probably have those same holiday commitments, too.
December calendars fill up fast and the race is on to grab the RSVP of your holiday party invitees before they are swamped with a dozen other offers. We suggest you mail your Christmas party invitations by at least November 1st to give guests a minimum of four weeks notice before your holiday party.
Of course, the earlier you mail your invitations, the better chance you have of people attending your party. You don't want your Christmas party invitation to be the last one opened and received after everyone has committed to attending other holiday parties.
For more help with your holiday party, we've complied How to Rock Your Christmas Holiday Party and we show you how to steer clear of them. Invitations say Festive Holiday Attire, or Creative Black Tie Formal - we explain what holiday party invitation dress codes mean and how to dress to look your best for any style holiday party or occasion.