Baby Shower Themes & Planning
---
20% off INVITATIONS | Use Discount Code DOINVITEU20
---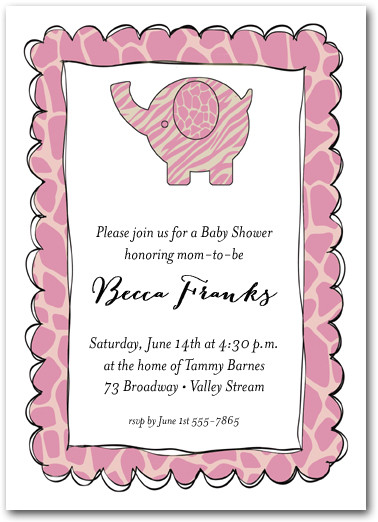 Don't get too hung up on a theme for a baby shower - it already has a theme - A baby is coming!
Baby Shower Color Themes

:
You might already know if it is a girl or a boy, so that can determine the colors for your baby shower and the invitations you choose can reflect the colors. Popular color themes are:
Blue and Brown
Pink and Brown
Blue and Spring Green
Pink and Spring Green
Blue and White
Pink and White
Mix various shades of blue
Mix various shades of pink
Nursery Theme Baby Shower:
The parents-to-be might have already decorated the nursery, or at least have narrowed it down to a few ideas. You can use the nursery theme as your party theme.
Baby Shower Decorations:
Be sure to buy all decorations and paper goods at the same time. If you go back for more at a latter date, they could be all sold out.
Invitations
Balloons
Streamers
"Party's Here" sign for front of location
Paper plates, napkins, plastic wear
Centerpieces for food table
Centerpieces for each individual table
Table linens
Placemats
Placecards
Individual favors at each place setting
Guest List:
After you've decided on what type of Baby Shower you're having, women only, couples shower, shower at the office, you'll need to get started on the guest list. When you ask for the guest list, ask that the list contain the first and last names of the guests as well as their phone numbers, complete addresses including zip codes, and their email addresses if available. All this information makes it easier to track down required party rsvp's. Ask the grandmothers-to-be if they have any special friends they would like to include. See if there are any other baby showers planned - if the office is planning one, you might not have to invite the office group to the shower. If there is a family shower, you might also be able to cut down the numbers you need to invite. Also take into account any feuds so you can create a harmonious seating arrangement and avoid potential conflicts. Once you have all the rsvp's, it's nice to make a print out of the list so the expectant mother will have a list to use for sending her thank you notes.
Baby Shower Games:
All baby showers have some type of games. Games can be played sitting at tables quietly filling out lists or lively jumping up and down shouting out answers. What type of crowd or party you envision will determine what games would be appropriate for your shower. Plan on at least two games or more depending upon the amount of time available. Make sure you have decided on the games and have done all the prep work before hand so things go smoothly.
Baby Shower Menu:
Are any foods your mother-to-be cannot eat or can't tolerate smelling? Does she have any favorites or a type of food she would like served - Texas Barbecue, Mexican Fiesta, Italian or garden fresh salads and finger foods?
Your budget - setting your budget can determine what you will serve and how it will be served.
Will the party be catered, restaurant prepared favorites or will you make all the food?
Is it an afternoon shower where finger foods and fabulous desserts are perfect or an evening sit down dinner of hors d'oeuvres, main course and dinner? How about a potluck?
The time of year can also determine your menu - what's in season or what holiday favorites can be served?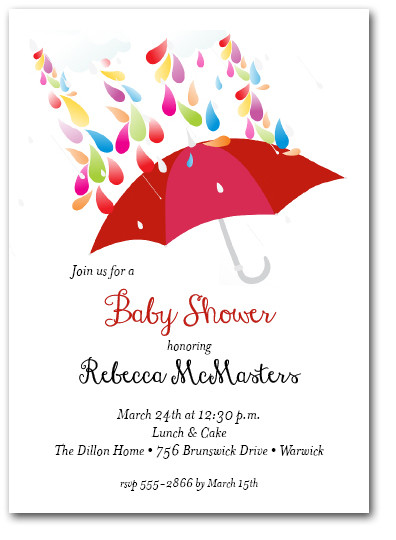 Beverages: Plan on a wide variety of beverages:
Soda
Juice
Water - bottled and/or sparkling
Punch
Coffee and Tea
Wine - not necessary for a baby shower, but if you know the guests preferences, one choice of read and one choice of white would be fine.
Appetizers: You'll want to have appetizers to keep guests busy while waiting for the party to start or the main course to be served. Good choices are:
Crackers and cheese trays
Veggie platters
Fruit platters
Nuts in small bowls
Candy bowls
Bowls of chips or pretzels
Main Course: Take into consideration if you're having a women-only shower, a lighter menu can be served than a couples baby shower. A buffet provides a lot more variety and can be more cost effective than a sit down meal. For a buffet, you'll need 1-2 choices of:
Meat (with sandwich buns)
Veggies
Potatoes
Salads
2-3 Salad dressing choices
Desserts: You might want to set out the desserts 20 minutes after the main course. Serve with coffee (regular and decaf), tea, and water.
Party Favors:
You don't have to spend a fortune on party favors. Some fun ideas:
Potted plants
A cute glass filled with chocolates and tied with ribbon
Elegant wrapped desserts
Clean Up:
Cleaning up as you go can make the "after" much easier. Don't be afraid to ask for help.
Assign someone to pick up wrapping paper when gifts are opened
Wrap up and put away food as soon as everyone is done eating
Dishes are thrown out or put in the dishwasher as guests are lingering over coffee
---
Here are a few of our favorite invitations: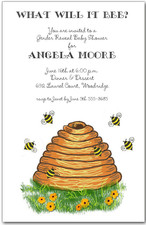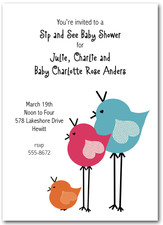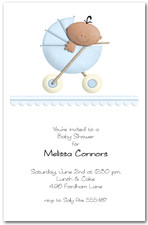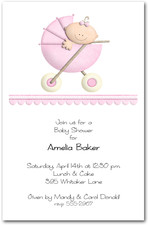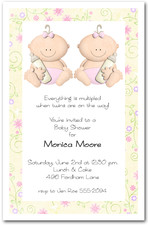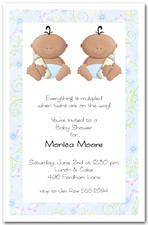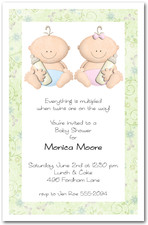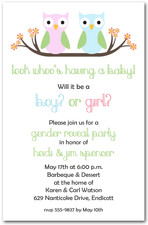 ---
What type of Baby Shower should I have?