I am so ready for summer and warm weather! As I live in Southern California, that might seem like a strange statement, but we have seasons too, just not as drastic as other parts of the country.
Birthday wishes will also join my wish for warm weather as my sister and I are both celebrating birthdays in the next few days. (Happy Birthday Sis!)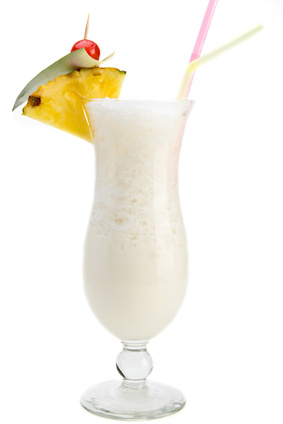 Dinner and drinks, outside if possible, is something we always look forward to. My sister is a type one diabetic so we are always searching for low sugar/carb recipes that won't cause her insulin to skyrocket.
A favorite of ours is a Pina Colada (it just tastes like summer) but the typical Pina Colada is not an option for her as it is loaded with sugar and can have anywhere from 500 to 750 calories and is an insulin nightmare.  As I always seem be to counting calories, we've discovered this low calorie version we can both enjoy with only 235 calories and 2 grams of carbs.
 Ingredients:
1 jigger white rum (1.5 oz.; 3 tablespoons)
5 tablespoons coconut milk* or coconut cream (do NOT use Cream of Coconut for this low calorie drink as it is coconut milk and sugar and high in calories)
4 tablespoons sugar-free pineapple syrup, such as Da Vinci
1 cup ice
Preparation:
Put ingredients in blender and blend until slushy.
You can also put all ingredients in a cocktail shaker, shake, and strain out the ice for a non-frozen version.
Enjoy!