Create an Original Holiday Photo Card this Christmas
---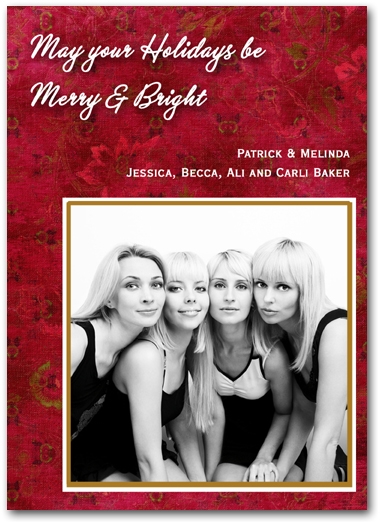 Don't fool yourself, digital holiday photo cards are all about the photos. To get the best photo quality and the brilliant colors and fine details you expect in photos, we use paper specially designed to produce the best photos plain papers and card stock just can't duplicate.
There is no need to settle for a big box store holiday photo card, the same one your friends will be sending, when you can find original, like our exclusive designs. You'll love our Christmas photo cards with beautiful, vibrant backgrounds of stunning fabrics, prints and designs with awesome colors plus photo cards with simple or detailed borders you'll adore.
If you dread thinking about what's involved to create your photo card,
make taking your annual holiday photo card picture a family tradition with a reward after your family has completed their posing.
Use a tripod and a self-timer so the photo taker can be in the photo too.
Plan on a variety of poses, serious and humorous, and rearrange everyone a few times to keep their attention and to have several finished poses to choose from.
When you're finished, celebrate by going out to dinner or set a specific family tradition you can all look forward to year after year when the photo taking is done.
Your holiday photo card doesn't have to be a winter scene or formally posed. If you have fabulous pictures from your vacation, by all means, use them. If your family was all dressed up for a birthday, wedding or other family occasion, that also could make a wonderful Christmas photo card friends and family will love.
It's easy to order our exclusive digital Christmas Photo Cards:
Choose your family photo
Choose your favorite holiday photo card design and complete the simple order form
Log-in to "My Account" system and upload your photo.
We are not a "computer generated" printer. We don't ask you to drop your photo into a template, master a complicated program to enter your personalized greeting, and then rush to print your order.
We take pride in producing each Christmas Photo Card order individually, one at a time.
An actual typesetter personally creates your photo card layout and uploads a proof to your own on-line web page for you to review and approve. Upon your approval of the finished layout, your order then prints and ships to your home or office and arrives just the way you approved.
Before mailing your Christmas photo cards, you can add another personal touch to your cards by writing a message on the back (with a sharpie so it doesn't smear) or include a family newsletter to catch everyone up on your family's activities for the past year.