How to Plan a First Communion Party
---
20% off INVITATIONS | Use Discount Code DOINVITEU20
---
First Holy Communion, a ceremonial admission of young Catholics to the community of the church, is becoming a main event for this rite of passage for 7- and 8-year-olds. The First Communion season is short, so planning is essential.
When planning your special communion day, first, decide on a budget and the size of your guest list. Confirm the date with the important people in your child's life, grandparents, favorite aunts and uncles, cousins, etc., before you set the date with the church.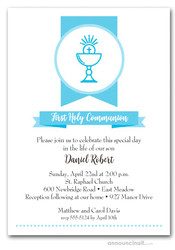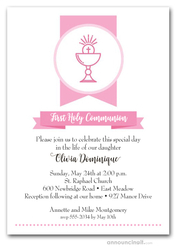 Decide if you will have a reception following the communion ceremony. If you want a reception at a banquet hall or restaurant, reserve it for your date and time as soon as you have confirmed the same with the church. If you are having a communion reception at your home, decide if it will be indoors or out (make allowances for bad weather.) If you will have the food catered at your home, reserve the date with the caterer and a time to look over their selections and to place your order. Do you need to rent tables, linens, chairs? If you would like the services of a photographer, musicians, and entertainers, book them as soon as possible.
Once your date, time and reception location have been confirmed, it is time to order the first communion invitations. There are invitations available for all budgets and styles. You can include a separate RSVP card or include a response line on your invitation. Mail your invitations up to eight weeks prior to your event.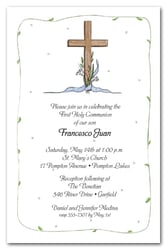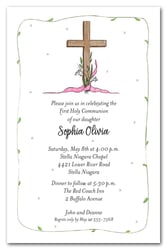 "Save the Date" cards are a great way to give out-of-town guests prior notice of your party or a simple phone call will be appreciated. Unlike the child's birthday party or other social events, the invitations to a First Communion party will go to guests of all ages. The overall theme should reflect not only the child, but the invited adults. During an adult cocktail hour, you might want to have activities for the children, but remember, they will probably be dressed in their best "church clothes".
At least a day before the communion, make sure you have charged your video camera battery and have checked your still camera batteries or digital camera memory available. Make sure you have plenty of video tape and film set out in plain site so you know where it is when you need it! Some disposable cameras sitting around for your guests to also capture the action can yield some of the best pictures of you, the parents, with your child.
And most important, enjoy this special day with your child.

---
You might also like: