Second Birthday Party Planning & Ideas
---
20% off INVITATIONS | Use Discount Code DOINVITEU20

---
Your child is turning two! Isn't it amazing how much they have changed and all that they have learned in the last year?
By their second birthday, children have some definite likes and dislikes. This can make party planning fun for a two year old who has favorite movies or cartoon characters. They are still too little to be aware of what all the fuss is about, but will love to have all the attention for the day as well as treats such as their favorite foods, birthday cake and ice cream.
As with first birthdays, your party already has a theme - it's a birthday party! So you don't have to go overboard on creating the perfect theme as your two year old won't remember the party except through pictures years later. Choosing a theme or your child's favorite colors will help you plan the invitations, the cake, the tableware and other decorations. You child is only two, they really doesn't care about the materialistic stuff so you can keep the party budget friendly and still have a great time.
Picking the Date, Location & Guests for a Second Birthday Party
When choosing the date, make sure the special people are available, grandparents, aunts and uncles, cousins. If the party is "family only" the pressure is off for having a "perfect party", you can just enjoy the day.
Weekends are usually best so working adults can attend.
Choose your party time around your child's nap time so they will be at their best and enjoy the party and all the attention.
Send invitations out at least 2-3 weeks before the party. Send them earlier if the party is the same time as a major holiday or in December.
Keep the party short so your child isn't cranky or tired, 1-1/2 to 2 hours should be about all they can handle.
Choose a location your child is comfortable with...there's no place like home.
Second Birthday Party Invitations
Your child probably has some favorite things by now. Some popular second birthday party invitation themes are:
Who should you invite?
Invite special friends and relatives, the adults and children in your child's life, but keep the number manageable because you will also be taking care of your two year old.
Too many people can be overwhelming to your child when all eyes are them, so keep the number of guests manageable.
If your child has made a few friends through play dates or other activities, you might want to invite 1-3 of them and make sure their parent(s) attend to take care of them.
If your child goes to Gymboree or something similar, you can have a party there for your child's little friends and they will do everything for you.
Party Decorations
Mylar balloons are the safest and aren't as great a choking hazard as latex balloons.
Banners and posters can be "temporarily" affixed to walls with toothpaste.
Use the birthday cake and goodie bags or party favors as part of your decorations.
Plates, napkins and other tableware can also be set out as part of the party decorations.
The Birthday Cake
We suggest getting a "squash cake" which is a miniature cake just for your child. You can then let the guest of honor stick their fingers in the icing, take a bite out it, or do what they will (they will surprise you) and you can then serve a larger, unblemished cake to your guests.
As a two year old is still getting the hang of feeding themselves, it is a great video moment to capture their fun with the cake.
Be careful of candles on the cake, matches or lighters so your child or others don't get burned or injured.
Entertainment
Entertainers can be terrifying to a two year old. Live entertainment is really not necessary at this age and best kept until they are older and the entertainment will be fun instead of frightening.
Food & Drinks
Finger foods are fun for little ones - try peanut butter and jelly sandwiches (be aware of any allergies), macaroni and cheese and chicken fingers.
Cut fruit and vegetables are a great snack for all ages.
Cheese and crackers
Juice boxes are great for kids, less chance of spills and forgotten glasses spilled or forgotten in strange places. Have a Sharpie pen on hand to write names on cups and juice boxes, you'll have less waste.
If you are having a party longer than 1-1/2 hours, you can consider serving a meal, but remember you will have a lot going on and you want to enjoy this special day more than your guests will need to be served a full meal.
Go ahead, serve cocktails! Your child won't remember and your guests might enjoy a glass of wine or a cold beer - you don't have to have a full bar.
What should a two year old wear?
I your child has a favorite outfit or a favorite color, that's a place to start. A special outfit doesn't have to be expensive, just pick something cute for the pictures, age appropriate and fits the season.
It's a good idea to have a change of clothes on hand and several cute bibs to catch the result of your two year old feeding themselves.
Party Supplies
Make sure you have your camera batteries charged - video and still cameras.
Disposable cameras are a great way for your guests to help you capture the action, especially your interactions with your child throughout the day.
Name tags if you have people from different circles that haven't met.
Trash bags to collect wrapping paper as the gifts are opened and trash from food that will be served.
Extra Tips
Be flexible! Just go with the flow. Enlist the help of some of your child's favorite people to keep them busy while you attend to the party details.
ENJOY! Be sure to take the time to enjoy the day!
---
20% off INVITATIONS | Use Discount Code DOINVITEU20

Some of our favorite invitations: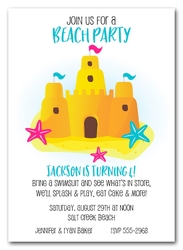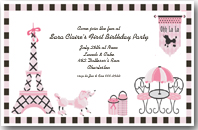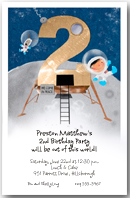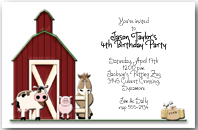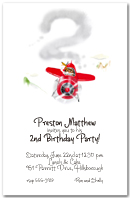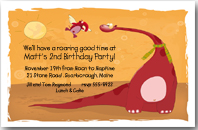 ---
You might also like:
What to include on Invitations
Preparing your home for a Party
---