Planning a Cinco de Mayo Fiesta...Ole!
---
20% off INVITATIONS | Use Discount Code DOINVITEU20

---
Cinco de Mayo celebrations erupt annually at restaurants, bars and in homes across the U.S. Southwest every May 5th, so why not join the celebration this year by hosting your own party? All you need are platters of spicy food, a pitcher of Margaritas or Sangria, energetic music, colorful decor and some fun friends! But be sure to send out your Cinco de Mayo party invitations early, because party competition is fierce for this day of Fiesta!
Cinco de Mayo Party Decor
In decorating for a South of the Border, Cinco de Mayo party, the most important thing is to use color! There is nothing mild about the Mexican culture, and many homes and businesses in Mexico are filled with vibrant shades of turquoise, fuchsia, yellow, red, purple and lime green. By scattering these colors throughout the party, it will become fiesta-ready. Also, Mexican Fiesta decor includes glitz and bling, such as silver, rhinestones, and mirrors. So when shopping for table centerpieces or serving dishes, the gaudier, the better!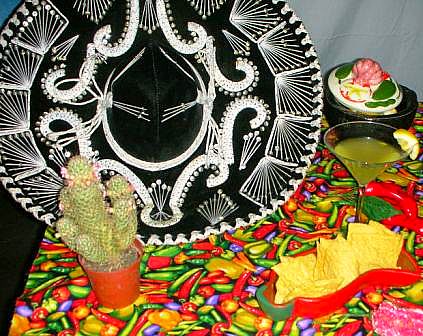 Buy paper plates, napkins and cups using a combination of the Mexican Fiesta color rainbow. Check out the dollar stores or other discount marts to shop for your paper needs, mixing up the colors.
Use Mexican Blankets as tablecloths, or use a raffia ribbon to gather the blanket center together to create a large wall hanging.
Hang Sombreros on walls, and use them during the party for a Cinco de Mayo Mexican Hat Dance.
Buy piñatas to hang from patio covers and gazebos or as a centerpiece for tables. The piñata can be filled with candies for an end of the night Cinco de Mayo event!
Use chunky, vibrant candle holders or glass votives to burn colorful candles.
Drape white lights around the party area for Cinco de Mayo ambiance!
Fill large clay pots and baskets with paper flowers in brilliant hues, which can be homemade.
Cinco de Mayo Party Music
During the party, play a medley of those hot, Latin-inspired artists and our American favorites who love singing about our South of the border neighbors, such as:
Santana (Oye Como Va)
he Champs (Tequila)
Gloria Estefan
Puchi Colon
Ricky Martin
Dominic Martenic
Jimmy Buffet
Kenny Chesney
Cinco de Mayo Party Food and Drinks
A Cinco de Mayo Party would be nothing without great Mexican Food.
Serve a variety of mild to spicy entrees in Talavera bowls or cheaper South of the Border look-alikes, buffet-style. In Arizona, Mexican food restaurants cater their standard entrees such as enchiladas, tacos, burritos, tamales and fajitas.
Try serving Tortilla Soup, Tamale Pie Casserole, Crock Pot Enchiladas and Taco Salad.
Cinco de Mayo Mexican appetizers can include tortilla chips served with a variety of Mexican dips, such as salsa, chili con queso or guacamole. Other favorites are jalapeno poppers, Tex Mex or seven-layer dip, and Mexican pizza.
Have plenty of shredded cheese and lettuce (or cabbage) ready, as well as chopped tomatoes, jalapeños and lime wedges for side garnishes. A dollop of sour cream will cool the spicy dishes down a bit for the gringos at the party.
Assuming the party-goers are drinking age, ice up a selection of Mexican beers, mix up a pitcher of Sangria and once they walk in the door start up the blender filled with Margarita mix!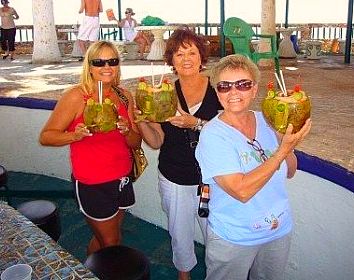 So, if you've got friends, enjoy decorating with color, and can cook up some spicy food and run a blender, you can throw a Cinco de Mayo party! Dress in your best Fiesta outfit and then get ready to click your heels and say "Ole!" In no time at all, the party will become a South of the Border Fiesta!
Did you know? Cinco de Mayo is not the Mexican Independence Day that many American's think it is? It is actually a symbol of Mexican patriotism in celebration over the Mexican Army's defeat of the French forces in 1862!
by Jan Peterson
---
Some of our favorite Cinco de Mayo Party Invitations
20% off INVITATIONS | Use Discount Code DOINVITEU20

---
You might also like:
What to include on Invitations