Kentucky Derby Party Ideas
by Jeanette Herren and Jan Peterson
---
20% off INVITATIONS | Use Discount Code DOINVITEU20

---
The Kentucky Derby is the most famous horse race and is held the first Saturday of May every year at Churchill Downs in Louisville, Kentucky. It is often referred to as the "most exciting two minutes in sports".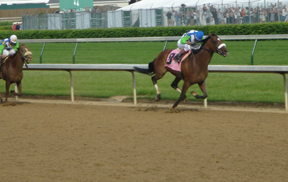 My husband took this picture from our seats at the rail of
Barbaro winning the Kentucky Derby in 2006
The attendance at the Kentucky Derby ranks first over all other stakes races in North America. But the Kentucky Derby isn't just about a horse race, it's also a good excuse for racing fans to gather together at elaborate parties that are held annually in Louisville a few weeks prior to, and on the day of the actual race. And the best news is, you don't have to live in Kentucky or even place a bet to celebrate this event, wherever you live!
One seventy year tradition is serving Mint Juleps. At Churchill Downs, almost 120,000 mint juleps are served on race day. And to my surprise, on my trip to the Derby, they are also served in collectors "glass" glasses, not plastic cups. If you're making mint juleps for your party, the one thing you will need is a lot of crushed or shaved ice!
Essential ingredients of a traditional off-track Kentucky Derby party:
Big Screen TVs to watch the pre-race events and the actual Run for the Roses.
Fun décor associated with the Kentucky Derby
Traditional Southern Food and Drink
Fun friends
Preparing for the Kentucky Derby Party
Planning early for any party is always a good idea. Make sure your friends don't make other plans for the Kentucky Derby by sending invitations 2 to 4 weeks in advance of your event. See our wide range of exclusive Kentucky Derby invitations.
Ascots and Derby Hats for Everyone?
Kentucky Derby fans run the fashion gamut. You'll see the high dollar box seats filled with the society elite in their designer best and spring hats. At the opposite end of the spectrum are the Average Joes in T-shirts and jeans who pay general admission to stand in the infield, where they can't even see the race but want to join in the wild party!
The dress or the Derby hat - what do you buy first?
On my trip to the Derby, the hat came first. My friends knew my husband was taking me to the Derby for my birthday, so they bought me a hat and a hat box to help with the hat's travel. My hat even had its own suitcase. My husband and I then chronicled the hat's trip to Louisville and what a trip it had. My hat even made it onto the race track! A sports photographer who was hanging out in front of us between races posed for this picture wearing my hat. My hat and I even made it into the Louisville Courier-Journal's 24-page Derby spread the next day! It was quite a trip!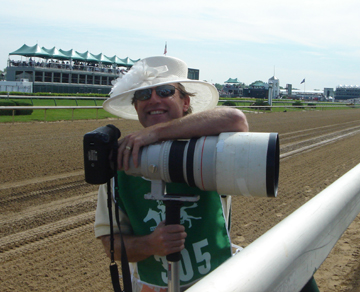 Decorating for a Kentucky Derby Party
The Kentucky Derby is the ultimate springtime kick-off party. Décor for the party can be upper crust or bawdy bash in theme. Decorations can include:
Bistro tables and chairs with white linen tablecloths, or picnic tables and red checkered tablecloths
Silver and crystal or sturdy plastic forks and paper plates in baskets
Roses, roses and more roses, and other spring bouquets
Wide brimmed spring hats decorated with bows and floral sprigs
Centerpieces that replicate the horseshoe wreath that is draped over the big winner, or the 14-carat solid gold trophy that is awarded each year to its owner
Horseshoes scattered throughout the party on tables, hung on walls and around the food serving area.
Kentucky Derby Food & Drink
A Derby party would not be complete without some traditional Southern food and drink:
Mint Juleps - An iced drink consisting of bourbon, mint, sugar and water. The drink is usually sipped from frosted glasses. Wikipedia says, "Most Churchill Downs patrons sip theirs from a souvenir glass printed with all previous Derby winners".
Non-Alcoholic Mint Julep Recipe - Great for kids or adults who'd rather skip the booze but still enjoy the flavor of Kentucky Derby's favorite drink.

Burgoo

- A spicy Irish stew served in Kentucky barbeque restaurants. This dish could be prepared as a social dish, asking the party guests to each bring one ingredient for the pot, which is done often by Kentuckians and their friends.
Chocolate Bourbon Pecan Pie - Pecan pie that is revved up with chocolate and Kentucky bourbon!

Henry Bain Sauce

- Named after the head waiter at Louisville's Pendennis Club who made it famous in 1881. Serve this sweet, tangy, spicy sauce with beef tenderloin.

Hot Brown

– A open-faced sandwich invented in 1926 by the chef of the Brown Hotel, with roast turkey, tomato, and bacon, covered with Cheddar-Parmesan cheese sauce, that has been broiled until the cheese sauce is golden brown.
Benedictine Finger Sandwiches – Petite, crust less cucumber sandwiches that consist of sliced cucumbers, onions, cream cheese and mayo.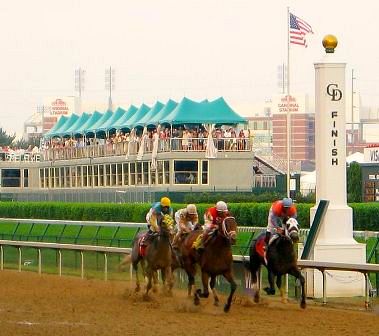 Velo Steve/Wikimedia Commons
---
20% off INVITATIONS | Use Discount Code DOINVITEU20

---
You might also like:
Past Winners of the Kentucky Derby
Kentucky Derby Infield Punch Recipe
---