Invitation Do's and Don'ts: Invitation Etiquette
---
20% off INVITATIONS | Use Discount Code DOINVITEU20

---
There are some etiquette questions that are asked over and over. While it seems anything goes now days, here are the most frequently asked questions about invitations and our answers.
Is it alright to send Save the Dates Cards to part of my invite list?
In today's economy, everyone is trying to cut costs and save money. A Save the Date card can help you get an idea of who is planning on coming to your event or wedding. You should treat a save the date card the same as you would an invitation -- you need to send them to everyone you intend to invite. Remember, people will be excited when they receive your news and they will talk, email, tweet and facebook to everyone that might also know you, "Did you get the Save the Date for Dave and Karen's Wedding!"
After you've sent the save the date cards, you will probably get some informal feedback as to who will and will not be able to attend your wedding and might be able to use that information to help you budget. As the save the date cards are an informal notice, it is suggested that you still send everyone on your save the date list a wedding invitation as that is when you ask invited guests to RSVP and you will then have your final head count for your wedding or event.
---
Do you announce where you are registered on your wedding announcement card?
It is not proper to include any gift information on your wedding invitations, save the date cards, or any other pre-wedding event invitations. Let your parents, wedding party, close friends or persons throwing you a shower, know where you are registered so they can tell guests that ask, call or RSVP to an event.

Today, it seems anything goes, but it is proper for guest to ask, call, email, tweet or facebook the couple's mothers, maid of honor or even you to get your registry information. Adding registry information on any of your printed invitations makes it seem gifts are more important than your invited guests.
It has become popular for couples to have a wedding website - this is a great place to put your registry information. You can then give your wedding website link to people to get more information about your registry, directions to your events, hotel information, and more about you as a couple.
When in doubt, it is more discreet to add a link address to your wedding website than it is to print something that makes guests think you've stated "We are registered at everyplace under the sun, so bring gifts!" If your wedding website address is super long, consider using a URL shortening service such as bit.ly to shorten a long link to something manageable. If you don't like the link that is automatically created, you are allowed to customize it. You might choose something like: JimAndMary52025.com that is easy to remember and easy for guests to type in to find your website.
---
How do you state "No Children invited?"
It is socially incorrect to mention "no children allowed" on invitations.
The proper way to inform a household who is invited is on your envelopes. The person(s) listed on the outer envelope such as "Mr. and Mrs. John Smith" is who is invited to the event or "Mr. and Mrs. John Smith and Miss Amanda Smith" indicating that the Smith's daughter is also invited. (See the images below.)
---
Why do formal invitations have two envelopes?
The answer to this question goes back in history to when invitations were hand written. The names of guests were written as part of the invitations themselves and hand delivered by a footman.
If the footman didn't know the home he was to deliver the invitation, detailed directions to the guest's home were written on the outside envelope. Or, if you didn't have a footman, invitations were put into envelopes and the address of delivery was written on the front envelope and was delivered by the post.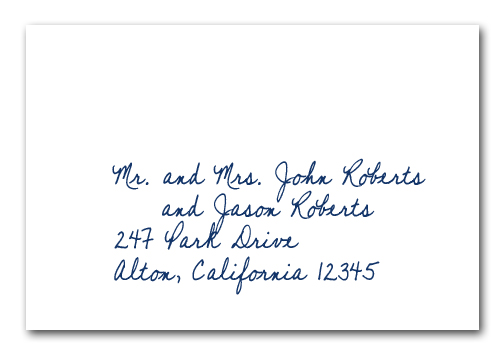 Households typically contained extended families and when the invitation was delivered, the outer envelope was removed and the household members names invited to the event were written on the front of an inner envelope. To prevent snooping, the inner envelope was often sealed by wax so only the invited guests would see the envelope contents.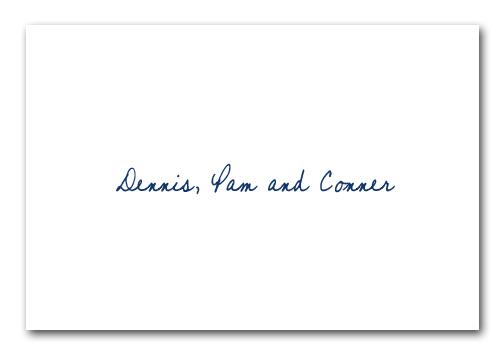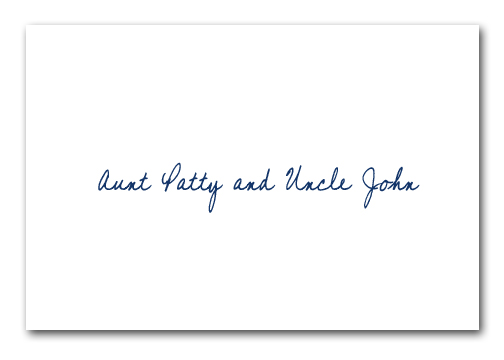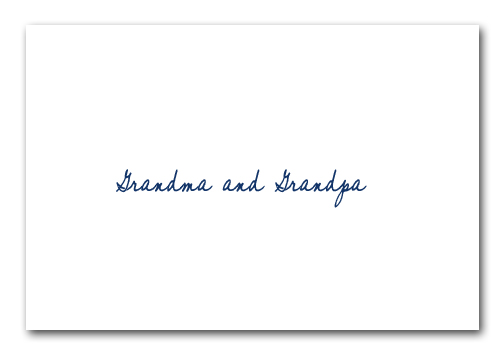 So, the purpose of two envelopes
1. the outer envelope details whose household the invitation is going to and directions for delivery (your address)
2. the inner envelope states who in the household is actually invited to the event
---
Next:
What to include on your invitations