Invitation Do's and Don'ts: What to Include on Your Invitations
---
20% off INVITATIONS | Use Discount Code DOINVITEU20

---
You've found the perfect invitation for your occasion, but what do you put on it? Below is a list of the details to check for when you compose and order your party invitations: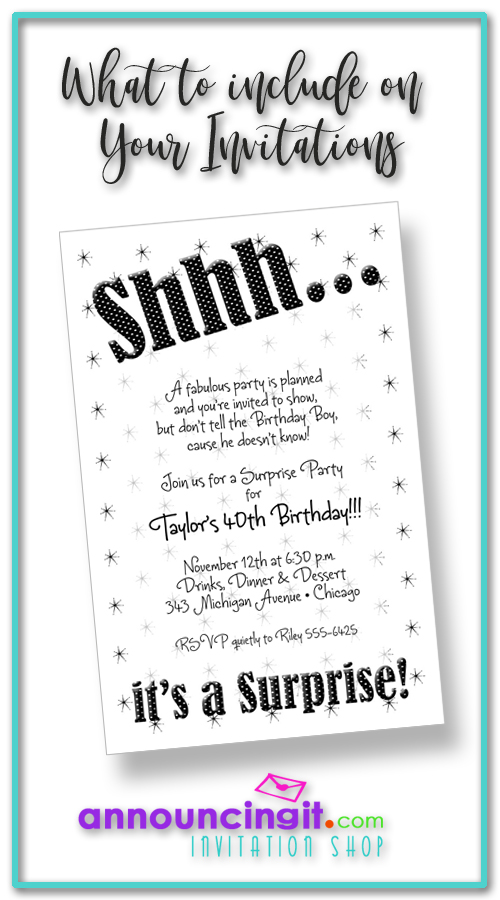 Purpose of the invitation:
A birthday party, a wedding, a holiday party, a graduation party open house.
Include the occasion you are celebrating.
Name of honoree:
"Sally Smith" or "Ken and Jennifer"
- the birthday person, the graduate, mother-to-be, the bride and groom
Day and Date
"Saturday, August 29th" or if it is formal, "Saturday, the twenty-ninth of August.
Be sure to look at your calendar to make sure as in this example, the date is really on a Saturday.
Tip:
When you include the year after the date:
Correct: August 29, 2025
Incorrect: August 29th, 2025
the "th" or "nd" is only used when a date is not followed by the year.
Year
Informal invitations do not require the year.
For a formal event, include the year and spell it out:
"two thousand and twenty-five" instead of "2025."
Time
"6:00 p.m." with small letters and periods p.m.
For for formal events, spell out the time such as:
eleven o'clock in the morning
six o'clock in the evening
with little "o" and "c" on the word "o'clock"
Tip:
Before 6:00 p.m., use "in the afternoon"
After 6:00 p.m., use "in the evening"
Name of Place
If the party is not in your home, you should include the name of the place: "Opah's Restaurant"
If the party is at a home, you can use: "at the home of Dan & Chris Robinson"
Physical Location of Place
Give the street address and city.
Include the state if you are inviting out of town guests to a location other than your home.
Do NOT print a zip code on an invitation.
Tip:
Zip codes are not needed for on-line driving directions or GPS directions. Please, do not print it on your invitations.
Name of Host
List the name of the host(s) / hostess(es) / parent(s) giving the party.
Hosted by Sally Smith
Given by Denise Dunne, Mary Smith & Kathy Clark
RSVP or Regrets Only
List an RSVP with a phone number and/or email address and a date you would like your guests to RSVP by.
Tip:
Do not use "Regrets Only" if you need an accurate count of who is coming to the party for the caterer, to know how much food, drinks, party ware to buy. Using regrets only might surprise you as you will have to guess or assume if every one is coming or no one is coming to your party.
Dress Code
If dress code or appropriate attire is an issue with your party or specific attire is desired, such as a "White & Black Dress Party" spell it out for guests or you might be surprised at what they choose to wear to your affair.

It is not necessary to specify a dress code on formal invitations-the event should be the clue as to the appropriate attire, but "black tie preferred" or "white tie" can be included in small print at the bottom of invitations and will be appreciated by guests so they arrive appropriately attired.
PROOF READ!!!
Once you have your invitation wording written down or typed, proof read, proof read, proof read!!
We can't say it too many times. Proof read several times for spelling mistakes and/or forgotten information! It might be a good idea to have a friend read it to make sure it's perfect!
---
Lots of ways to layout your invitations:
---
20% off INVITATIONS | Use Discount Code DOINVITEU20

---
Next: