What's Cooking? Cucumber Tea Sandwiches
also known as Benedictine Spread
---
The story goes that "This delicious spread was the brain-child of Miss Jennie Benedict, a beloved Louisville cateress of a generation ago. It is still a favorite at local cocktail parties and weddings." The recipe also says…."Last of all, add the green coloring – just enough to give a faint green tinge, for too much will look unappetizing."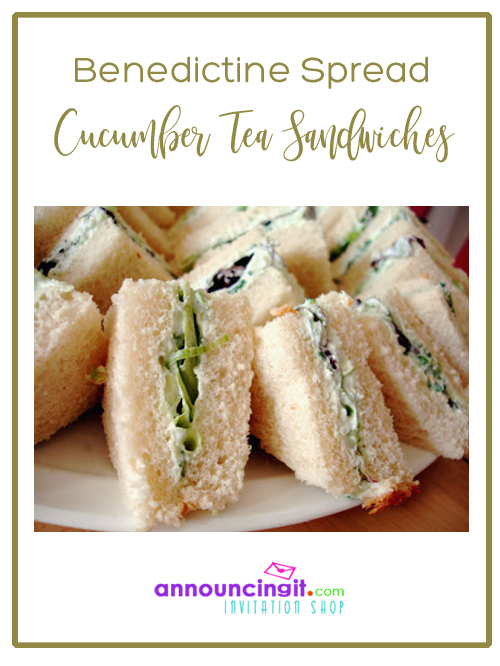 Cucumber Tea Sandwiches
Ingredients:
12 ounces cream cheese, at room temperature
1 medium cucumber, peeled and grated
1 medium onion, grated
1 teaspoon salt
Pinch cayenne
2 tablespoons mayonnaise
Drop of green food coloring
Preparation:
Drain the cucumber in a colander for a few minutes, then dry it on some paper towels. Drain and dry the onions the same way. Toss everything in a big bowl and mix until well combined. Cover with plastic and stick in the fridge until ready to serve.
You can serve on bread as tea sandwiches or make into a ball and serve with crackers as a dip.
You can also add a bit of Tabasco for a kick and add bacon crumbles to the sandwiches.
Benedictine Sandwiches are a favorite to serve at Kentucky Derby parties!
---
20% off INVITATIONS | Use Discount Code DOINVITEU20

---