What's Cooking? Buffalo Chicken Dip!
---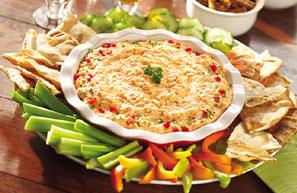 A tasty dip for any occasion. Guests will be asking for your recipe!
Ingredients:
4 - boneless skinless chicken breast halves, about 2 pounds, boiled and shredded with 2 forks (I do mine in the crockpot and then I have homemade chicken broth for other cooking uses; the meat shreds so beautifully, too.)
1 - 12 ounce bottle Frank's Hot Sauce (try NOT to substitute....Crystal is passable but whatever you do, do NOT use Tabasco!)
2 - 8 ounce packages cream cheese, softened
1 - 16 ounce bottle Ranch dressing
1/2 cup chopped celery
8 - ounces shredded sharp cheddar cheese or Monterey Jack cheese or combo of them
Preparation:
Preheat oven to 375 degrees. In a 13 x 9 x 2 inch baking pan, combine the cooked, shredded chicken meat with the entire bottle of Frank's, spreading to form an even layer.
In a saucepan over medium heat, combine cream cheese and entire bottle of Ranch dressing, stirring til hot and smooth. Pour this mixture evenly over chicken mixture.
Sprinkle with chopped celery. Bake uncovered for 20 minutes. Then add the shredded cheese and bake uncovered for another 20 minutes or til bubbly--do not overbake or the cheese topping will get browned and hardened! Remove from oven and let stand 10 minutes.
Serve with celery pieces (cut the celery cross-wise, not lengthwise...you want the dip to get scooped into the celery piece)...or with any sturdy dipping chip like Tostito Golds.
---
20% off INVITATIONS | Use Discount Code DOINVITEU20

---
Here are a few of our favorites:
---
You might also like:
Planning an Outdoor Summer Party