What's Cooking? Fiesta Guacomale Dip!
---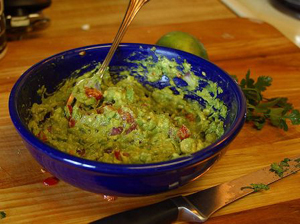 No Mexican Fiesta would be complete without Guacamole! Here's a quick and easy recipe for this delicious Mexican dip that your guests will dig into with mucho gusto:
Ingredients:
4-6 Ripe Avocados
½ Cup Sour Cream
¼ Cup Chunky Salsa
½ Teaspoon Fresh Squeezed Lime Juice
½ Teaspoon Garlic Salt
1 Tablespoon Freshly chopped Cilantro
Directions:
Cut each avocado lengthwise and scoop out the fruit with a spoon, saving the pits.
Mash avocado with a fork
Mix Sour Cream, Salsa, Lemon Juice, Garlic Salt and Cilantro into mashed avocado. Add a few avocado pits back into the mixture.
Serve in a Talavera bowl atop lettuce and surround by chopped tomatoes.
Provide plenty of Tortilla chips!
Optional: Chopped Tomatoes can be added into Guacamole
Did you know? Adding a few avocado pits into the guacamole and brushing the top of the dip lightly with lime (or lemon) juice will keep the Guacamole from turning brown longer!
Submitted by Jan Peterson
---
20% off INVITATIONS | Use Discount Code DOINVITEU20

---
You might also like:
How to plan a Cinco de Mayo Party