Kentucky Derby Mint Juleps Recipes
---
20% off INVITATIONS | Use Discount Code DOINVITEU20

---
One thing you absolutely need for mint juleps is lots and lots of crushed or shaved ice!
You also need to start them them way in advance. The original version takes 4-6 hours for the bourbon/sugar mixture to sit; the non-alcoholic version takes 45 minutes for the sugar mixture to sit; and the quick version is just that, quick - no wait time for the flavors to blend and mingle.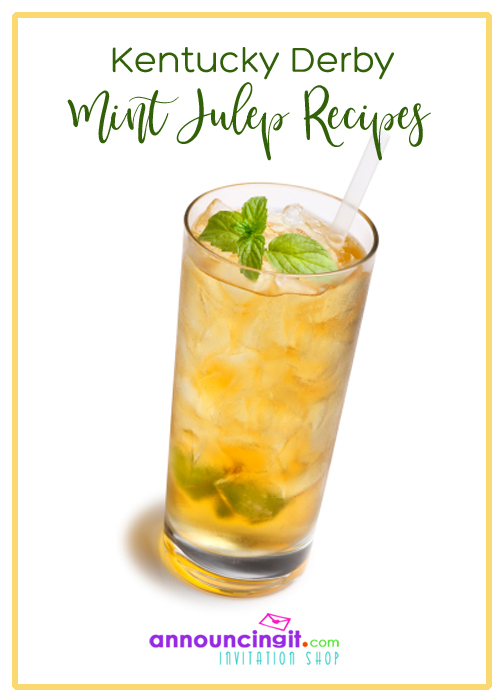 Original Kentucky Derby Mint Juleps Recipe
Ingredients:
1/2 cup sugar
1 cup water (prefer distilled or bottled)
8 fresh mint sprigs finely chopped (Use only the leaves, no stems)
1 quart bourbon (prefer Jim Beam but Wild Turkey will suffice)
Fresh mint sprigs for garnish
Combine water, sugar, chopped mint leaves and bourbon in a glass container, stir until sugar dissolves. Cover and let stand 4 -6 hours. (You might want to make extra of this bourbon-syrup mixture so you don't run out.)
To serve, strain the bourbon-syrup mixture into a large pitcher, discarding the chopped mint. Fill glasses with cracked ice; add bourbon mixture, and garnish with mint sprigs.
---
Quick Kentucky Derby Mint Juleps Recipe
In a bowl, place several fresh mint sprigs (without stems), 1 tsp. of sugar and 1/4 ounce of water. Crush the leaves with a spoon and stir until sugar dissolves.
Fill a chilled tumbler with crushed ice, fill with Bourbon, and top with strained sugar/mint mixture. Or place a bit of the mixture into the chilled glass.
Add a layer of crushed ice. Continue at least one more time, topping with ice, then top off with bourbon. Garnish with fresh mint sprigs.
Makes one mint julep.
---
Non-Alcoholic Mint Juleps Recipe
A non-alcoholic Mint Julep is perfect to serve at your Kentucky Derby Party for children and teens who are too young to drink the alcoholic version and for adults who'd rather bypass the booze and still enjoy the taste of a Mint Julep, the Kentucky Derby's official drink.
Ingredients:
1-1/2 cups sugar

2 cups cold water
5 cups crushed ice
2-1/2 cups chilled ginger ale
3/4 cup lemon juice
6 mint springs (at least)
Lemon slices for garnish if you wish
Preparation:
Mix sugar, cold water, lemon juice and at least six mint sprigs in a bowl and let stand for 45 minutes. Strain mixture and remove mint. Because this takes 45 minutes to meld the flavors, be sure to make more than enough at once to serve all your guests.

Using two 2 quart pitchers place half of the above mixture and half of the ginger ale in each pitcher. Top with lemon and additional mint sprigs in the pitchers or use for each glass.

This recipe makes approximately 3 quarts Non-Alcoholic Mint Julep (about 12 - 8 ounce cups). Be sure to make enough at once to eliminate prep time after your guests have arrived.
---
20% off INVITATIONS | Use Discount Code DOINVITEU20